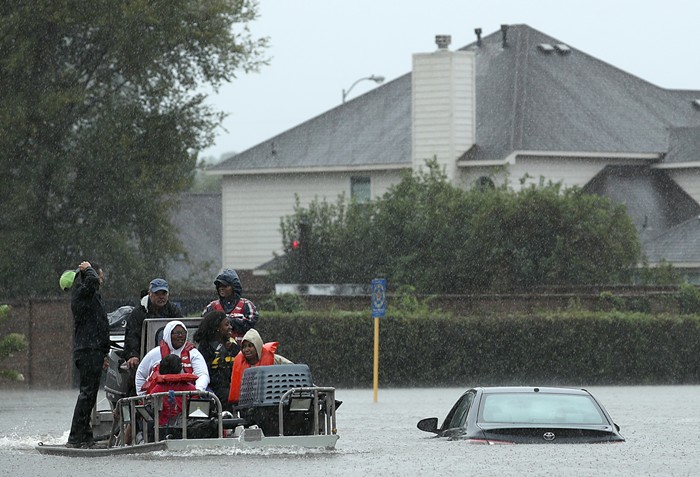 The latest official death toll
from now-Tropical Storm Harvey is 10, but there's no telling what rescuers—
including some from Oregon
—will find when the rivers and lakes that have replaced much of the Houston area subside. The storm has moved back over the Gulf of Mexico, "meaning it could gain strength," the
NYT
says.
Lots more here.
Be sure to read the coverage from the Houston Chronicle (for which I used to write dumb political stories).
Also: The megachurch run by ultra-rich TV pastor Joel Osteen might finally open its doors to storm refugees? The former Houston Rockets arena is still closed off this morning.
We all know Harvey's dumped an insane amount of water on the Houston area, but how much is it? As of noon on Sunday, it had rained 9 TRILLION GALLONS, the Washington Post reported.
Lastly, Melania T catching lots of heat for those stilettos, as the Trumps head to Texas.
JUST IN: The Trumps departing White House en route to hurricane zone. pic.twitter.com/a2s8uma7qd

— Peter Alexander (@PeterAlexander) August 29, 2017
On to international horror: North Korea conducted another missile launch early Tuesday, this time flying a rocket over Japan. Cue panic and more dire threats. From the NYT: "Only twice before has the North fired projectiles over Japanese territory: once in 1998, prompting a minor diplomatic crisis in Asia, and once again at the beginning of the Obama administration in 2009. In both those cases, the North said the rockets were carrying satellites into orbit. In this case, it made no such claim."
Why? A Hood To Coast participant allegedly stole a pickup truck in the dead of night and attempted to run down other participants, striking one woman.
Remember this year's brief May Day riot, where masked demonstrators vandalized downtown buildings and set fires in the street? One woman was arrested in connection with the damage on Monday, and charged with rioting and arson.
Adios, Terminal 1. The piece of city-owned industrial property—the subject of something of a tug-of-war last year between developers who wanted to turn it into a homeless campus and detractors presenting a variety of concerns—has finally been sold to Medford-based Lithia Motors, which last year tried to get the city to throw the Portlandia statue in with the deal.
Daryl Turner, the head of Portland's rank-and-file police union, has a major role in a new West Coast organization aimed at garnering positive media coverage for law enforcement, the Tribune says.
Turner might want to address this King County, Washington, traffic stop, where a sheriff's deputy approached a motorcyclist who'd been allegedly speeding with his gun drawn(?!).
Hillary Clinton will be here in December—more than a year after she lost the presidential election—to explain why she lost the presidential election. I doubt it will make you feel better about anything.
To distract yourself from all the other misery in the world, why not focus on the enormous fire currently eating up a big patch of your state? The Chetco Bar fire in Southwest Oregon spans more than 100,000 acres.
Your Labor Day weekend is about to be hotttt.