The Portland Thorns shut the Washington Spirit down 4-0 in a magnificent show of force, accuracy, and stone cold finesse!
HAIR FLIPS AND DOUBLE DUTCH SKIPS – ANOTHER WIN!
Over 19,000 sweaty, sunburnt and committed fans gathered midday at Providence Park to watch the Thorns high step their way right past the last team in the standings and Sashay Shante one step closer to solidifying their spot in the playoffs.
IT'S A HARLEM SHAKE AND BAKE AND I HELPED!
WHEN MAGICAL THINGS HAPPEN TO GOOD TEAMS
During the first 15 minutes of the game, the Thorns took some time to get acquainted with the fact that someone had set Portland to BROIL and they also calibrated some strategies regarding the Spirit's formation and offensive tendencies. There were some close calls on both sides of the field but Thorn's goalkeeper AD Franch was focused and dead set on not letting anything past here. SORRY, NO VACANCY.
Soon enough, passes started to match up and things went from HOT to FLAME KISSED with the Thorn's offense. In minute 21, Thorns midfielder Allie Long (who was surprisingly playing a striker position) made a Sasha Fierce drive for the goal and was physically held back by Spirit defender, Shelina Zadorsky. STOP COLLABORATE AND TAKE A PK!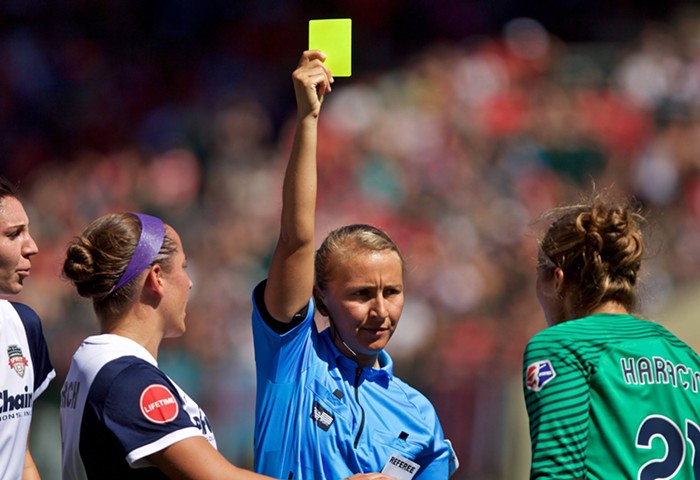 Nadia Nadim's penalty kick was blocked—but not caught by Washington's goal keeper. Nadim took advantage of the body ball bounce and carefully directed the ball to the back of the net. CALL C & C MUSIC FACTORY—EVERYBODY'S ABOUT TO DANCE NOW!
HOPE YOU HAVE DENTAL INSURANCE
For the second time this season, Canadian Sensation, Christine Sinclair, recorded a BRACE with goals in both halves. THE HILLS ARE ALIVE WITH THE SOUND OF SINCLAIR... RIPPING THE BACK OF THE NET! Her first goal came MOMENTS, and I mean, MOMENTS after Nadim knocked that PK rebound in—then, after a sweet Danish treat was served from the left corner from Nadim, Sinclair applied a dollop of well-timed touches and eventually showered the Thorns with a SUGAR-COATED second goal of the match. ALL ABOARD FOR DETERMINATION STATION! TOOT TOOT!!!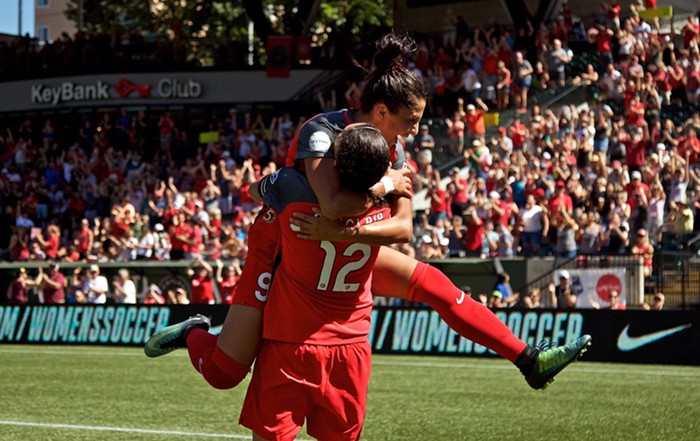 Sinclair's second goal came during ANOTHER beautiful corner kick from Klingenberg. Initially, Sonnet headed the ball onto the goal post, but the experience, wisdom, and modest flair that is Christine Sinclair was ready to slap that once rejected ball, into the goal.
PIE TO THE FACE! WINNING IS FUN!
YOU BETTA RECOGNIZE

It would be remiss not to mention the delightful goal headed in by Emily Sonnett after another one of Kling's corner kicks. And how irresponsible would it be if I did not mention the sheer horsepower displayed by the Thorns defense on Saturday? That defense helped the Thorns recorded their ninth clean sheet this season and their seventh at Providence Park. If this squad continues to follow the trajectory of OFFENSIVE FIRE and DEFENSIVE SMOTHERING... I anticipate similar FIERY finishes.
THE END IS NEAR
Holy Christ on a cross bar! There are only three games left to the regular season! The Thorns are seated second at the standings table and are set and ready for the playoffs. Portland will be in Boston at 3 pm on Saturday, September 10. Following that the Thorns will play in Orlando then finally finishing their regular season play here at Providence Park on Saturday, September 30.
Sure, everything is coming up roses, but the play only gets tougher and more physical after this. Come support your home team and root for them to gain home field advantage for the playoffs.
Check here for a stream of the away matches
Also, follow me on twitter @erinjeanius