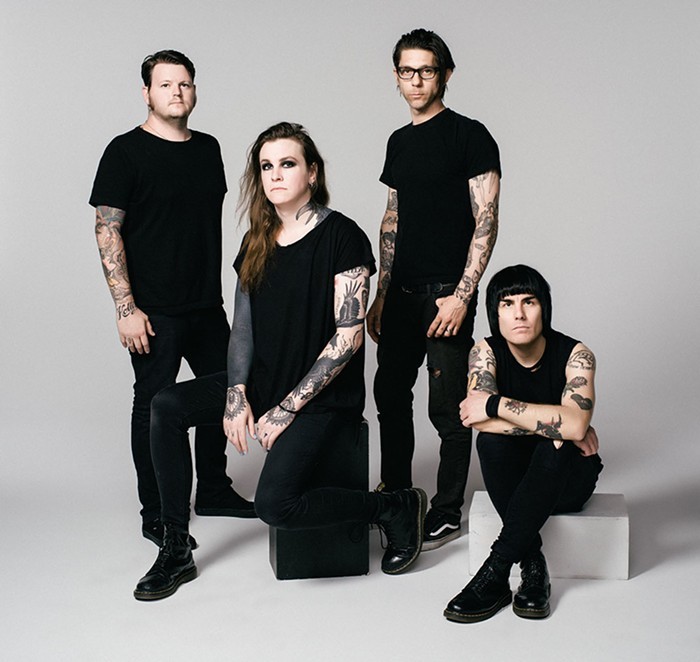 Since its inception in 1998 as a raucous Floridian two-piece, Against Me! has defied expectations of what a punk band should look and sound like. Their songs not only take on the usual punk rock villains—authoritarianism, capitalism, wage slavery, musical ability—they challenge members of the punk community to own up to their prejudices and complacency.
From the beginning, Against Me! never shied away from criticism, and at times even seemed to encourage it. Cries of "sellout" regularly greeted the band when they moved from a tiny record label to the independent Fat Wreck Chords in 2003, and when they made the unforgivable jump to major-label Sire in 2007, those cries became bloodthirsty. But as they began to find international stardom, and as they graduated from DIY basement shows to festivals and stadiums, their songs started to have an increasingly darker tone, confronting things like drug addiction and suicidal thoughts.
When frontwoman Laura Jane Grace came out as transgender in 2012, it wasn't really a bombshell to longtime fans—she'd been addressing gender nonconformity in her lyrics for years, albeit subtly. Now that it was finally out in the open, Grace could at last reveal her lifetime of suffering and confusion, as she would in her heartbreaking 2016 memoir, Tranny: Confessions of Punk Rock's Most Infamous Anarchist Sellout. Though the band's music has been hit-or-miss since their major label debut, 2007's New Wave, Against Me! and Laura Jane Grace are still busy doing what they've always done, what they set out to do, and what they do best: challenging prejudices and defying expectations.