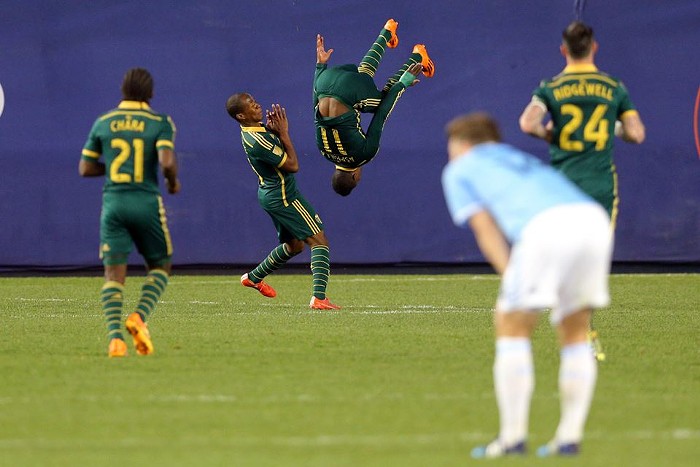 After a two-week break following their rollocking 1-1 draw with the Seattle Sounders at the end of August, the Portland Timbers will be back in action this Saturday in the Bronx as they face high-flying New York City FC at Yankee Stadium (2:30 p.m., TV on ROOT Sports).
It's another difficult for a Timbers team that still — remarkably — will be missing key players due to injury. NYCFC has been amongst MLS's best teams all season, currently sitting second in the Supporters' Shield race. But the Timbers ended August a rejuvenated side, and they'll be playing with zero pressure in the Big Apple.
The History
It's a short history between the Timbers and New York City, teams that have met just twice since the NYC club began play in 2015.
Portland took the first meeting between the clubs 1-0 at Yankee Stadium in April 2015 on Dairon Asprilla's first Timbers goal eleven minutes from time. Only one NYCFC player who started that game — Oregon State product Khiry Shelton — is still with the club.
A year later, New York City turned the tables — coming to a rainswept Providence Park in May and walking away with a 2-1 win. That result was a statement of intent for Patrick Vieira, and a landmark win for a 2016 NYCFC team that would go on to finish second in the East and lead the league in goals scored.
NYCFC's expansion season — as well as the beginning of its sophomore season — was marked by an inability to win the in cramped confines of its baseball stadium home field. But around the middle of 2016, though, NYC figured it. Since June 2 of last year, the club has only lost once regular season home game.
The Tactics
For much of August, Caleb Porter thought he was going to have a fully healthy team for this game. It's not going to happen.
Fanendo Adi, Liam Ridgewell, and Jake Gleeson are all still unavailable — with Ridgewell and Gleeson now expected to return to the lineup for next weekend's game at Real Salt Lake and Adi sometime after that.
That means that the Timbers will have roughly the same team they had to finish August — with Jeff Attinella in goal, Roy Miller partnering Larrys Mabiala in central defense, and Darren Mattocks up top. Darlington Nagbe and David Guzman both started in World Cup qualifiers on Tuesday, but both are expected to play.
On the NYC side, David Villa's fairytale return to the Spanish national team came to an unfortunate end on Sunday when he picked up an adductor strain in training and had to return home. Villa didn't play for NYCFC in their Wednesday win over Sporting Kansas City, and he'll likely be out on Saturday as well.
New York City will get a trio of starters — Alex Ring, Yangel Herrera, and longtime Timber Rodney Wallace — back from international duty for Saturday.
The Lineup
1 - Attinella
5 - Vytas
7 - Miller
33 - Mabiala
16 - Valentin
20 - Guzman
21 - Chara
6 - Nagbe
8 - Valeri (C)
10 - Blanco
11 - Mattocks
The Pick
This is a tough game to call. The Timbers are as confident as they've been in months, and NYC has significant injury problems of their own. That said, expect Vieira's team to find a way at home — just as they did in a tough game Wednesday night — and win 2-1.