Welcome to the Portland Mercury's first-ever Veg Week—a week designed not only for vegans and vegetarians, but for all Portlanders who want to enjoy some of the best, most inventive dishes Portland restaurants have to offer! Not only are all Veg Week dishes 100 percent vegan, but they're also—from October 9-16 only—available for HALF-PRICE!
Veg Week is brought to you by the Portland Mercury and our pals at the Portland Veg Fest, Farm Spirit, Wildwood Farm Sanctuary, Twist Yoga, and Peace Seed Organic. Check out the full Veg Week map here.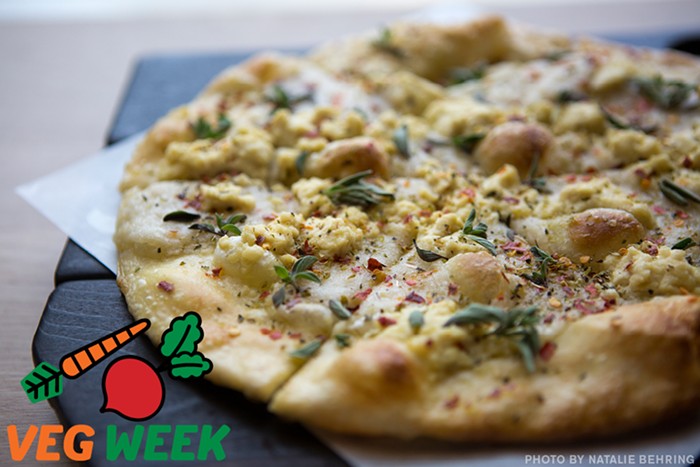 Virtuous Pie White Pie
Here's the thing about white pizza pie: thanks to relying on a whole lot of dairy, it's just about impossible to get it vegan. Or it was—until the oh-so-virtuous heroes at Virtuous Pie stepped up! This Veg Week, try their inspired take on the classic New York-style white pie—with a garlic-herb oil base and a mouth-watering blend of cashew mozzarella, ricotta, oregano, and crushed red pepper. Oh, and bonus: Everything on this beauty of a pie is made in-house. Take that, New York.
1126 SE Division St. #200, virtuouspie.com, Veg Week dish available Mon-Fri 11 am-close, Sat 11 am-close, Veg Week price $7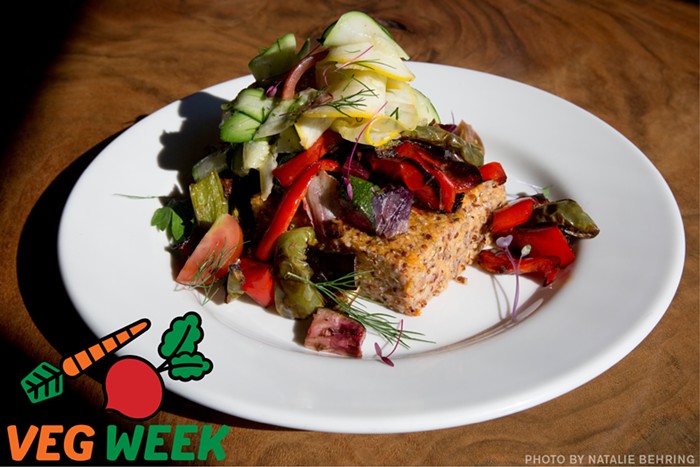 Water Avenue Coffee Tri-Grain Polenta, Shaved Summer Squash, and Roasted Vegetables
This Veg Week, Water Avenue Coffee has arranged a vibrant lineup of seasonal treats to enjoy—right before the dreary Portland winter starts up and ruins everything. Consider: Eggplant, heirloom cherry tomatoes, roasted squash, shaved zucchini, and Mama Lil's peppers—all arranged on a bed of delicious polenta made from Ayers Creek's stone-ground corn, red quinoa, the ancient Ethiopian staple teff, and vegetable stock. Add in some herb salad, and you've got one of Veg Week's liveliest, brightest offerings—and a meal you can think back fondly on once the soul-draining rains really kick in.
1028 SE Water Ave #145 location only, wateravenuecoffee.com, Veg Week dish available Mon-Sat 7 am-3 pm, Veg Week price $4
Wolf & Bear's Falafel
If you love vittles made fresh and from scratch, you're going to trip over your feet running to Wolf & Bear's. Their pita wraps are the stuff of legend, and their concoction for Veg Week will be no different. Get your mouth ready for this: fresh falafel, hummus, grilled eggplant, roasted red peppers and onions, homemade tahini sauce, and greens served in a warm, soft pita—or if you prefer, as a salad! Don't be too ashamed if you pick an extra up to nosh at home later.
113 SE 28th location only, eatwolfandbears.com, Veg Week dish available 11 am-9 pm daily, Veg Week price $4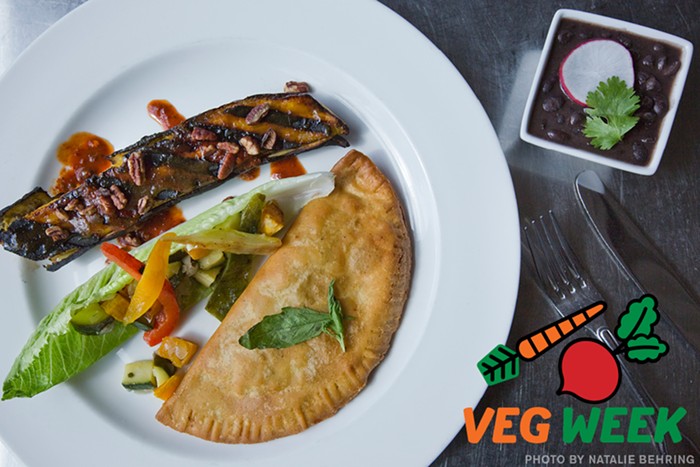 Xico Plato Vegano Mixto
In a town filled with excellent Mexican food, Xico has a tremendously loyal following, and for very good reason: Their locally sourced food is on point, fresh, and best enjoyed with an artisanal mezcal cocktail on their charming patio. Their Veg Week entry—a Plato Vegano Mixto—promises to hit even greater heights. Inspired by the cuisines of Veracruz and the Yucatan Peninsula, this sampling platter includes mushroom empanada made with freshly ground corn masa, grilled ripe plantain and pecan chipotle salsa, Yucateco black beans simmered with grilled onion and cumin, and a salad of sweet and hot roasted chiles with zucchini and squash. Prepare to adore every bite.
3715 SE Division, xicopdx.com, Veg Week dish available Mon-Thurs 5-9 pm, Fri-Sat 5-11 pm, Veg Week price $12