Good morning, Portland. Come get your links.
Dirk VanderHert writes about Commissioner Chloe Eudaly, the renter relocation law she fought four, and landlords increasing rents just below the 10 percent threshold:

"I want to let you guys know that I also received a 9.7 percent rent increase this year," Eudaly said. "My rent has gone up 75 percent in the last six years now. I live in a shabby, small rental home that has had no improvements other than repairs of essential services for a decade, and that was substandard and unsafe when I moved in."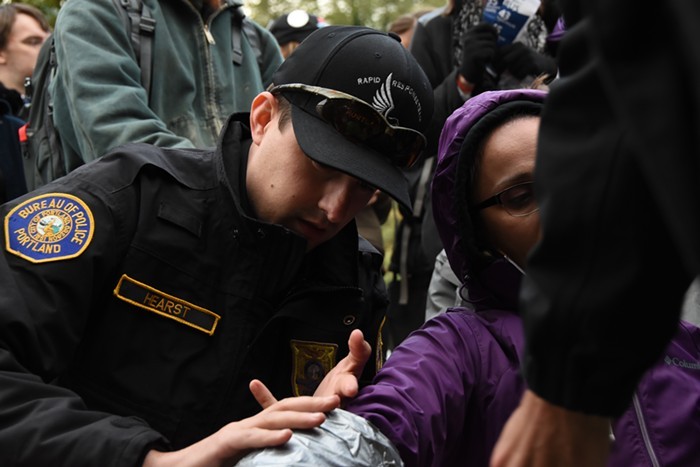 The Portland Police Bureau admitted yesterday that no power tools were used to separate protesters linked together in front of the ICE building on Wednesday. They put hoods and headphones on protesters for "protection" from tools they never used.
Mayor Ted Wheeler and Commissioner Amanda Fritz "welcomed representatives of the Verizon IndyCar Series to Portland" yesterday "to announce that the professional open wheel racing series will return to Portland in 2018, with a three-year contract for races in 2019 and 2020," the Portland Tribune reports:

"It is very exciting to see IndyCar racing coming back to the Rose City," Fritz said. "An event of this magnitude means $12 million to$15 million in revenue to the city, scores of jobs, and an exciting weekend of racing with new cars using clean-burning ethanol for fuel. I also acknowledge that there will likely be noise impacts in nearby neighborhoods. We will work closely with the organizers and the neighborhoods to mitigate the impact."
Details of the Bank of Oswego fraud trial, in the Lake Oswego Review: "Sixteen jurors have been chosen, opening arguments have been made and government witnesses are now being presented in a bank fraud trial that accuses former Bank of Oswego CEO Dan Heine and CFO Diana Yates of conspiring to hide bad loans from the financial institution's board of directors, shareholders and regulators."
The Oregonian has a nutty story on a large animal poaching ring in Oregon and Washington.
"For the second time in four seasons, health issues are sidelining Trail Blazers' radio voice Brian Wheeler," NBC Sports Northwest reports. "Wheeler, 55, will miss Friday's exhibition finale at the Moda Center, then at least the first three games of the regular season as he battles scrotal lymphedema. The condition, which caused him to miss four games in November of 2013, has returned and made it painful for him to sit through a broadcast, Wheeler said."
In the Oregonian: "Portland and Multnomah County will look at pairing housing services to keep homeless housed":

Portland and Multnomah County next week will vote on setting goals for creating housing opportunities for chronically homeless people who struggle with addiction and mental illness.
The goal would be to add, by 2028, 2,000 additional apartments that include access to physical and mental health care, drug addiction treatment, employment coaching and other social services. City Commissioner Nick Fish served as the city's first housing commissioner in 2009 and has long advocated for City Hall to help increase housing with services.
There were tornadoes in the area yesterday. Woah.
Everything is bad:

Death toll in California wildfires reaches historically grim heights https://t.co/OCPmgthNqg

— Washington Post (@washingtonpost) October 13, 2017
Trump taps climate skeptic for top White House environmental post https://t.co/Qa49dnERWs

— Washington Post (@washingtonpost) October 13, 2017
Panthers fan sucker-punches old man: https://t.co/qzd4SEu8wX pic.twitter.com/kjaup64wBR

— Deadspin (@Deadspin) October 13, 2017