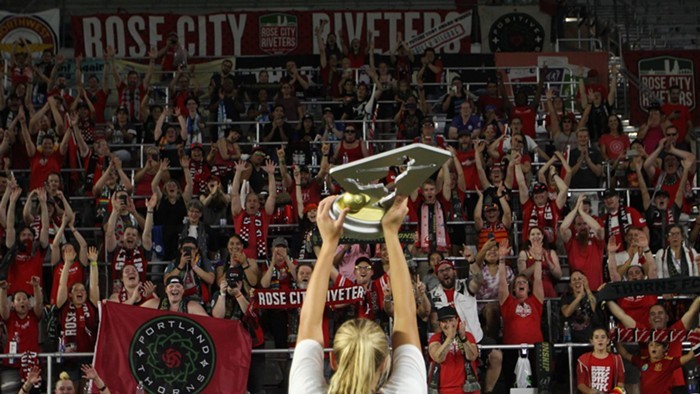 The New York Times published a great story about the Portland Thorns that I somehow missed when it was posted on Friday—maybe you did, too? If that's the case, read it now.
The day after the Times story was published the Thorns, of course, won the National Women's Soccer League title. Here's a key section in the NYT story that puts the Thorns' popularity here in some context:

The women's soccer team in this city, the Portland Thorns, has seen its attendance rise in each of its five seasons, and this year, it drew an average of 17,653 fans — more than 15 N.B.A. teams, 13 N.H.L. teams and one Major League Baseball team. Providence Park will be empty this weekend, but only because the Thorns are in Orlando, Fla., to play the North Carolina Courage for the National Women's Soccer League championship.

In nearly every way, from on-field success to fan support to profitability, the Thorns are a model of sports franchise success. Even if they do not add a second league title on Saturday, there is an argument to be made that the Thorns are the most successful professional women's sports team in the world.
It's pretty cool that a five-year-old soccer team is drawing more people to games than 29 teams in the huge-money, and historically-established "big four" leagues (NFL, NBA, NHL, MLB). Make sure to check out the New York Times story for more details.
And make sure to check out Erin O'Regan's recap of the championship game that the Thorns won yesterday: "For the second time in league history, the Portland Thorns are the National Women's Soccer League Champions! GLITTER CANNONS TO THE FACE! THE LADIES IN RED MADE IT HAPPEN! The Thorns defeated the North Carolina Courage 1-0 in a scrappy tappy final matchy on Saturday in luxurious and sweltering Orlando Florida."
Emily Sonnett free kick. Lindsey Horan finish. Up 1-0. #NWSLChampionship #BAONPDX pic.twitter.com/RzEOHYMPAW
— Portland Thorns FC (@ThornsFC) October 14, 2017
Wow Portland ❤️❤️❤️ pic.twitter.com/xJqztjk0Rk
— Mark Parsons (@mparsons_1) October 15, 2017