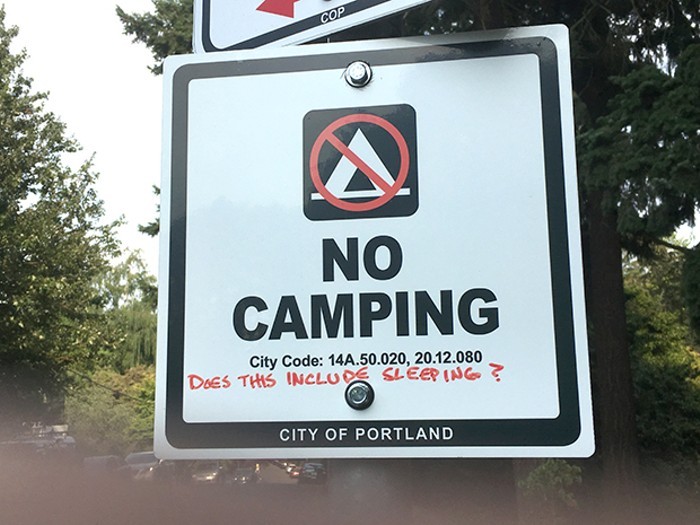 On the housing emergency front,
Mayor Ted Wheeler wants to use a theoretical $100 million from a theoretical transportation bond TriMet is considering, to pay for housing.
TriMet says that's not how these things work
, in theory or otherwise.
And Commissioner Chloe Eudaly is making it easier for private property owners to help the homeless. She's decided not to enforce city rules that don't allow RVs or tiny homes (on wheels) to remain on private property. That move comes as Eudaly plots a more formal policy for allowing tiny homes on private land.
In case you've been keeping it to yourself for some reason: Larry Flynt will pay $10 million for anything you've got that will lead to Trump's impeachment. That sounds like a good deal, but considering the fact that it will take some sort of mind-control ray to convince a Republican Congress to do that—and assuming the going rate for a mind-control ray is more than $10 million—you can do better.
The Oregon DOJ's leading civil rights attorney got $205,000 in a legal settlement after being improperly surveilled by his coworkers, but he also had to lose his job. Was that retaliation?
US Customs and Border Protection is now jailing European tourists for showing up with the wrong visa. At least, that's what happened recently to a Spanish woman who wanted to spend some time in Oregon.
Trump's latest baldfaced, easily refuted, maddening lie: That President Barack Obama didn't call the families of troops killed in action. I don't know what to say about Trump's falsehoods anymore. None of it matters. At least people are calling him out.
Special shout out to San Antonio Spurs coach Gregg Popovich, who called a reporter out of the blue, demanding that his denunciation of Trump be published. A selection: "We have a pathological liar in the White House: unfit intellectually, emotionally, and psychologically to hold this office and the whole world knows it..."
Speaking of tire fires: Trump's pick for drug czar sponsored a bill that helped drug companies push opioid-based pain killers on the addiction-prone masses. Now that that's come to light, Pennsylvania Rep. Tom Marino has withdrawn his name from consideration.
Soooo, the county believes its now-fired animal control manager was using a city purchasing card to buy "gold bullion, gas masks, military grade knives and survival gear", according to the Tribune. He also allegedly lied about his military service?
Racist garbage pile Richard Spencer is speaking at the University of Florida later this week. The governor has already declared a state of emergency.
Here: Watch two stars collide 130 million years ago.