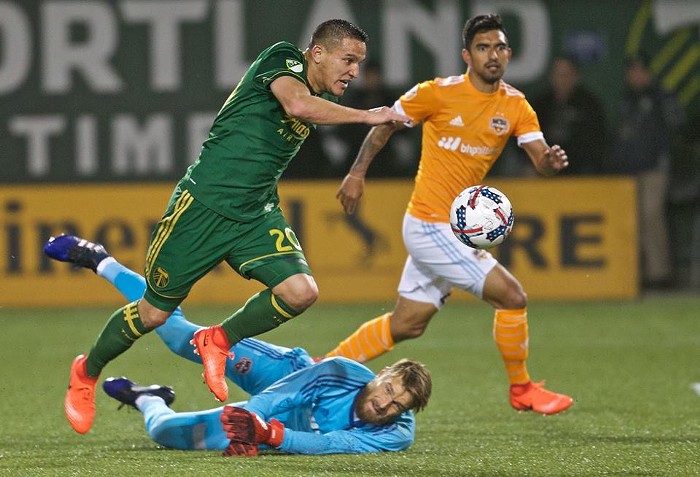 Eight days after claiming the Cascadia Cup and the Western Conference's top seed on the final day of the MLS regular season, the Portland Timbers' quest for MLS Cup number two begins tonight.
The first hurdle for the Timbers is a resurgent Houston Dynamo team that knocked Portland's old nemesis Sporting Kansas City out in a Wild Card game on Thursday night to set up this first ever playoff meeting (6:30 p.m., TV on Fox Sports 1).
Houston, on just three days' rest, hosts leg one. The return date is set for Sunday evening Portland. The Timbers' 2017 postseason is about to get underway.
The History
The two games between Portland and Houston this year were — as they regularly have been — packed with offense. The Dynamo raced out to a 2-1 first half lead in the match in Portland back in March, only for the Timbers to storm back with three second half goals to win 4-2.
The tables were somewhat turned for the July game in Houston. Then it was Portland who led 2-1 at the end of the first half, and the Dynamo who grabbed a late equalizer in a 2-2 draw.
All told, the Timbers and Dynamo have combined for 33 goals in their last eight meetings. One player who has especially enjoyed the matchup over the years is Diego Valeri, who has poured in six goals and four assists in his career against Houston.
The other major note is that the home team has historically dominated this series. The Timbers have never won a game in Houston, where the Dynamo have lost just once all season and the expected high temperature for Monday is a balmy 81 degrees.
It's worth mentioning here that all the pressure in this series is on Portland. The Dynamo were a last-place team just a season ago. For them, making the playoffs — let alone advancing — was a season-making achievement. For the Timbers, you feel, it's Western Conference title or bust.
The Tactics
As of last Thursday, Fanendo Adi had not yet returned to training. He'll either be on the bench, or, more likely, not with the team in Houston.
Also unlikely to take part on Monday night is David Guzman, who picked up a knee sprain late in the Whitecaps game. When down a starting central midfielder late in the season, Caleb Porter's preferred move was to bring Darlington Nagbe inside and start Dairon Asprilla on the wing.
Porter will likely go that route again. The Timbers are playing well, and they'll want to approach the game in an attacking posture. That said, Nagbe is going to have be involved defensively or the Timbers will risk getting caught in transition.
The team Porter is expected to name will include six players who played in MLS Cup 2015 in Columbus. Of the other five projected starters, four will be making their postseason debuts. The one with playoff experience, Darren Mattocks, scored in his only previous postseason start.
The Dynamo played a punishing Wild Card game on Thursday night against Sporting Kansas City. The match had ten yellow cards and went 120 minutes, with Houston prevailing 1-0 on a 93rd minute goal from Alberth Elis.
Now, Dynamo coach Wilmer Cabrera — whom Porter praised profusely midweek — has some big calls to make. Houston is down two starting defenders, with AJ DeLaGarza having torn his ACL on Decision Day and Leonardo going down with a knee injury of his own on Thursday night.
Those losses mean that the Dynamo will roll out former Sounder reserve Jalil Anibaba at left back tonight, with veteran Swiss center back Philippe Senderos making just his fourth ever MLS start at center back alongside Adolfo Machado.
The good news for Houston is that Cabrera rotated his attacking players all season and has several — including Mauro Manotas, who scored a hat-trick against Portland at the backend of last season — are ready to step into Monday's lineup. We should see Honduran winger Romell Quioto from the start as well.
One major concern for both teams is the condition of the pitch at BBVA Compass Stadium, which, as of Thursday night, was in terrible shape. Robert Sibiga, a rising start at PRO in his third season as an MLS referee, will have the whistle.
The Lineups
Houston Dynamo
1 - Deric
2 - Anibaba
4 - Senderos
3 - Machado
7 - Beasley
5 - Cabezas
13 - Clark (C)
17 - Elis
25 - Martinez
12 - Quioto
19 - Manotas
Portland Timbers
1 - Attinella
5 - Vytas
24 - Ridgewell (C)
33 - Mabiala
2 - Powell
21 - Chara
6 - Nagbe
27 - Asprilla
8 - Valeri
10 - Blanco
11 - Mattocks
The Pick
With the Dynamo trying to save their legs after playing on Thursday, we could see a slower, more compact match than we usually do between these teams.
The onus to win the game, though, is on the Dynamo. If they don't take a lead to Portland for the second leg on Sunday, they're not advancing — and with their improved defense, the Timbers will head home with a 1-1 draw.