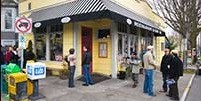 Besaw's
Why go to all the trouble of burning the hell out of yourself trying to grill up some grub for the Fourth? Let Besaw's do it, featuring live music by Max McCargar.
1545 NW 21st, Portland, OR 97210
503-228-2619
Hours: Tues-Fri 7 am-10 pm, Sat 8 am-10 pm, Sun 8 am-3 pm
http://www.besaws.com/
Event Times
This event is in the past.
Category