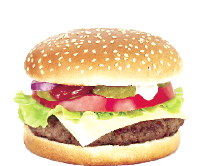 BURGER WEEK—Following last year's smashing success, the Portland Mercury (along with Nicky USA, Widmer Brothers Brewing, and Jim Beam) hosts the return of your tummy's favorite seven days of the year: Portland Burger Week! This year, a whopping 20 awesome restaurants will be serving specialty, one-of-a-kind, delicious hamburgers for only FIVE MEASLEY BUCKS. WSH
Click here to read The Five Commandments of Burger Week (and all about the burgers!).
Event Times
This event is in the past.
Category