La Boutique Fantasque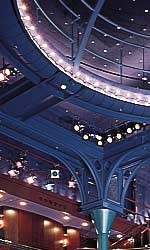 The Portland Ballet, accompanied like never before by the PSU Symphony, dons its tutus, tights, and coats-of-many-buttons for the annual performance of La Boutique Fantasque, which translates into English as "The Enchanted Toyshop," which if you translate it into Chinese and back into English reads as "Magic Funny Gift by Proletarian Worker." Really, it does. What is even more magical though, will be the live Rossini music, a TPB-PSU collaboration years in the making.
Event Times
This event is in the past.