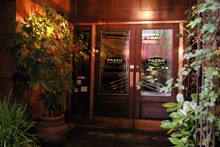 Eliza Sohn
Five course Prix Fix at a more reasonable price of $40 both Saturday and Sunday. They suggest you, "Snuggle up in a deep booth at one of Portland's most discreet and romantic restaurants." Discreet you say? How discreet are we talking? Eliot Spitzer discreet or Tiger Woods discreet? Boo-yah!
627 SW Washington St., Portland, OR 97201
503-228-1515
Hours: Sun-Thurs 11:30am-11pm, Fri-Sat 11:30am-1am
http://www.pazzo.com/
Event Times
This event is in the past.
Category