Raising the Question: Cloaking Disse

nt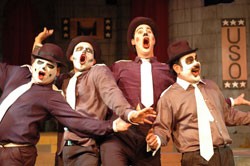 Miracle Theater Group presents The Inquisition of Lazarillo: Raising the Question, a series of lectures corresponding to their performance of Lazarillo—a play inspired by a 16th century Spanish novella deemed heretical by the Inquisition. Tonight's topic, entitled Cloaking Dissent, examines artists' self-censorship and the process by which societies come to accept new or radical ideas.
Event Times
This event is in the past.