Raising the Question: The Livelihood

s of Lazarillo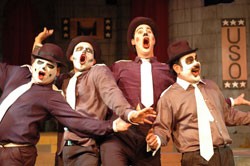 Miracle Theater Group presents The Inquisition of Lazarillo: Raising the Question, a series of lectures coinciding with their performance of Lazarillo—a play about an enterprising orphan boy which is inspired by a 16th century Spanish novella. On the bill this evening is The Livelihoods of Lazarillo; a selection of panelists (two professors from PSU and the president of the Hispanic Metropolitan Chamber of Commerce), take a look at the aspects influencing a person's socio-economic mobility and the rules and barriers hindering a person's advancement in contemporary society.
Event Times
This event is in the past.