Raising the Question: The Trails of

Adaptation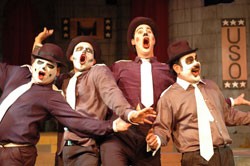 Miracle Theater Group presents The Inquisition of Lazarillo: Raising the Question, a series of lectures corresponding to their production of Lazarillo—a play inspired by a 16th century Spanish novella deemed heretical by the Inquisition. On the docket tonight is The Trials of Adpatation, a discussion about adaptations. Three panelists asks: What are the pitfalls of adapting classic works for a modern audience? Why bother reinterpreting a classic anyways?
Event Times
This event is in the past.