Cirque du Soleil: Dralion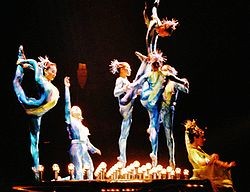 Cirque du Soleil performs Dralion, inspired by Chinese acrobatic arts, the lion (a symbol of the West), and the dragon (a symbol for the East). Caution: Anecdotal evidence indicates that consuming hallucinogens before a Cirque de Soileil performance is not as thrilling as it might sound.
Event Times
This event is in the past.
June 15-18, 7:30 p.m., Fri., June 17, 3:30 p.m., Sat., June 18, 3:30 p.m. and Sun., June 19, 1 & 5 p.m. 2011