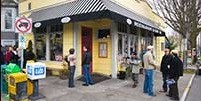 Besaw's
Start off the evening right! Besaw's will be serving an Oyster Plate of 3 fried and 3 fresh oysters served with a citrus mustard. Plus other special menu items and cocktails.
1545 NW 21st, Portland, OR 97210
503-228-2619
Hours: Tues-Fri 7 am-10 pm, Sat 8 am-10 pm, Sun 8 am-3 pm
http://www.besaws.com/
Event Times
This event is in the past.
Category