Dirtday!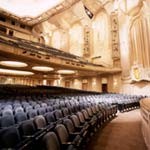 Arlene Schnitzer Concert Hall
Laurie Anderson sets a high bar for performance artists: At age 65, her work continues to engage meaningfully with the world around her. Anderson's 40-year career encompasses chart-topping pop hits (1981's "O Superman"), collaborations with the likes of William S. Burroughs and Lou Reed (and Peter Gabriel!), and the invention of a handful of her own musical instruments. (She was also an artist-in-residence at NASA, which is just about as cool as being an artist gets.) A returning TBA artist, this year Anderson performs Dirtday!, which combines music and storytelling to create a narrative set against contemporary political discourse, including the politics of the Occupy movement. AH
Event Times
This event is in the past.