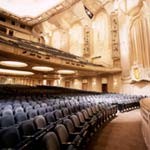 Arlene Schnitzer Concert Hall
Long before he was Patch Adams, or Mrs. Doubtfire, or that dude who yawped barbarically at dead poets, Robin Williams was probably the furriest, funniest free-associative cokehead on the stand-up circuit. But now he's older, wiser, and he's touring the country for evenings of sit-down comedy with help from David Steinberg.
Event Times
This event is in the past.
Category