After School Girlfight! Killl! Kill!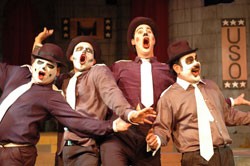 Comedy troupe the 3rd Floor's After School Girlfight! Kill! Kill! is a night of parodies and homages, including a spoof on Faster, Pussycat! Kill! Kill!, a vignette that clowns after-school-special tropes of the '70s and '80s, and a campy riff on The Love Boat. The show is hilarious and enjoyable through and through, marked with energetic character acting and deft parody. JACOB SCHRAER
Event Times
This event is in the past.