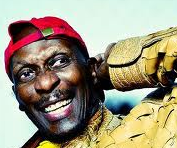 That world-renowned, peaced-out pop superstar Jimmy Cliff arrives just after MusicfestNW is both a blessing and a curse. A blessing because the 65-year-old Jamaican will be afforded a full set unbridled by festival clocks. A curse because after a weekend of binging on live music, some folks might stay home. A blessing because the show won't be overrun by tourists or besieged by lines. A curse because someone who might've stumbled onto Cliff's magnanimous charm, lilting melodies, and genuine good vibrations might otherwise remain in the dark. Really though, regardless of circumstance, Cliff is all blessing. A legitimate legend with a trunk full of sunny, indelible hits as well as new, inspired, and poignant material, Cliff is still reaching. He's also a soothing, gracious, and stirring performer, and not one looking to cash in on past work. I saw Cliff at SXSW in 2012 and while singing he couldn't stop smiling. The feeling is as contagious as the hooks. ANDREW R TONRY Also see My, What a Busy Week!
128 NE Russell, Portland, OR 97212
503-284-8686
Hours: Ballroom open for events only, Cafe open: Tues-Sat 5 pm-"late"
http://wonderballroom.com
Event Times
This event is in the past.
Category