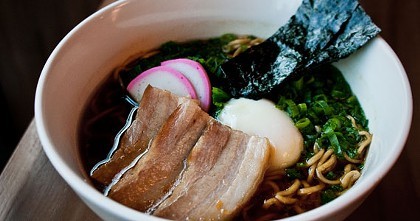 Wafu is a "noodle bar" specializing in ramen (the name translates as "Japanese style"). A big filling meal in the $10-12 range will get people in the door and ordering drinks, which is where most restaurants make their money.

But the left-hand side of the menu, as well as an ambitious specials board, is freed up for Pierce to serve his raw-fish preparations—the hand rolls and carpaccios and ceviches that Fin fans so adored—and izakaya-style dishes.

And the restaurant has that izakaya feel—low lighting from paper lanterns, a lot of concrete surfaces and wood accents, a collaged wall of Japanese movie posters. There's a handful of two-tops up front, then a long, high communal table that bisects much of the seating area. There are stools at the bar, as well as around the open kitchen, and in the very back, there's a banquet room where they play silent samurai movies on one of the walls.

As far as noodles go, you have three options. The Wafu ramen ($9) has a broth made from pork and chicken stock, and is topped with mustard greens, scallions, kamaboko (that cured, pureed whitefish they form into a loaf then thinly slice), and chicken oil. The broth has a different flavor than I'm used to—it's a little bit smokier and seems to lean pretty heavily on that chicken oil—but it's quite pleasant, and a couple spoonfuls of their Dragon Sauce add a nice spice. You can add a generous slab of pork belly ($3), a slow poached egg ($1), or a confit chicken leg ($2). All are worth it, depending what you're in the mood for, though the chicken leg was a tad unwieldy to pick apart with chopsticks. Patrick Schultz (formerly of Carlyle and Sel Gris) makes the noodles in house, and they've got a nice springy texture to them. And if the noodles are your thing, you can add an extra serving to your ramen for $2 more.

TONY PEREZ
This place is closed.
Wafu
3113 SE Division, Portland, OR 97202
503-236-0205
Hours: Tues-Sun, 5 pm-Midnight
Restaurant Details
Features

Cuisine

Asian, Japanese