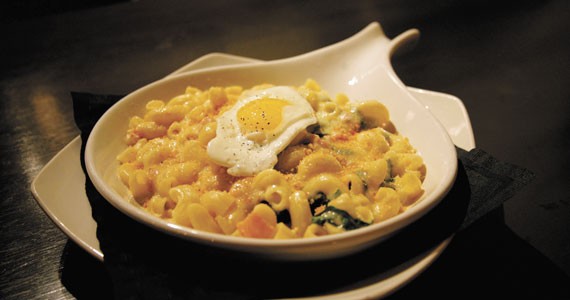 he list of available mac 'n' cheese dishes is fairly expansive, far broader than Montage or even Herb's Mac & Cheese cart. You can get anything from a simple cheese and breadcrumb ($6.50) to pulled pork ($9.50) to truffle oil with peas, mushrooms, and shaved prosciutto ($10.50). There's a good variety of options for vegetarians and meat eaters alike, and for $2 more, they'll even cater to those who can't handle the gluten (vegans, as you might have guessed, are shit out of luck).

But for all the innovation and imagination—and they've got that in spades—Mac!'s mac 'n' cheese leaves something to be desired. The cheese, regardless of what it contained, has been unquestionably too thin and liquidy. My other complaints—namely that the sauce is too rich for me to get anywhere close to finishing their, admittedly huge, portions—can surely be chalked up to a matter of taste, but the texture is sub par and, depending on what other ingredients they're working with, uneven.

There's a hearty list of sandwiches available as well—grilled caprese, pulled pork, a BLT—but if the Philly cheese steak ($8.50 with fries, chips, or macaroni salad) is any indication, expect competence, not anything that blows your mind. The Philly is served on a soft hoagie roll with thin-cut ribeye, cheese, and sautéed onions and peppers. The steak was actually a good quality—tender, and not overly chewy—but the flavor was fairly bland. I can't imagine seeking the place out specifically for sandwiches when there are so many good options in town at the same price.

Also in the plus column: Mac! does have a full bar, a pretty good Bloody Mary, and a decent selection of beers. Can't hurt... If Mac! is catering to the young families of the neighborhood, trying to take a piece of Laughing Planet's territory, they'll do just fine—it's affordable, the portions are large, and it's conveniently located. But if they want to be a destination, drawing mac 'n' cheese aficionados from other corners of the city, they've got some growing up to do.-TONY PEREZ
Mac!
3969 N Mississippi, Portland, OR 97217
503-200-5787
Hours: Tues-Sat 11:30 am-9 pm, Sun 12 pm-9 pm, Closed Mon
Restaurant Details
Cuisine

American, Italian