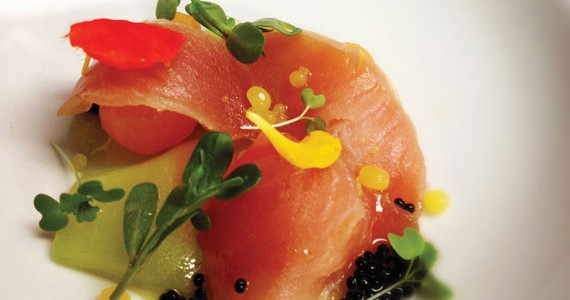 IT HAPPENED about five minutes into our pre-seating cocktail at Ración, when we were trying the bar snacks that were the preamble to the night's new-Spanish nine-course dinner. The thing that triggered it was something remarkably delicious and labor intensive for a simple skewered snack: a cool house-made rabbit pâté spread with caper berry relish, rolled inside a mustardy crêpe, and cut like sushi. More thought had gone into that one little bite—its appetite-sparking, rich, salty flavor, its timing during the first relaxing wash of the drink, its complementary nature—than entire meals I've had lately. I realized upon eating it that the chef had crafted a "surrender moment"—that he had earned my trust before I'd even sat down. CHRIS ONSTAD
This place is closed.
Racion
1205 SW Washington, Portland, Oregon
971-276-8008
Hours: Tue-Sat 5pm-10pm
Restaurant Details
Features

Cuisine

Spanish/Tapas
Bar Details
Features

Scene

Bar

Happy Hour

Tue-Sat 5-6 pm ($7 Raciones, $6 Daily cocktail, $5 House red/white wine, $3 Draft cider).
Read More About It