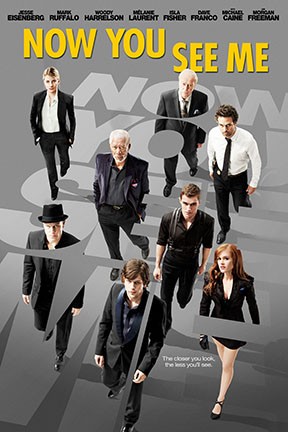 STUDIO EXECUTIVE 1: Okay, let's get Mark Zuckerberg and Haymitch and a Franco brother and a hot girl to be badass con-men.
STUDIO EXECUTIVE 2: WHAT?!?!?! Yes, please! The only thing that idea is missing is Morgan Freeman! And... magic tricks?
SE1: Whoa, yeah, let's put Morgan Freeman in it! And sure, magic, okay whatever. Wait... maybe they can steal stuff with magic? Then maybe... the Hulk tries to stop them?
SE2: Oh, shit yes! Wait. Can we add Batman's butler? I like Batman's butler.
SE1: Sure! Okay.


No Showtimes Found