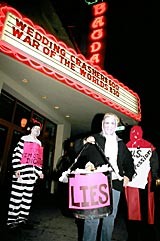 Think back to three years ago, when an estimated 30,000 residents flooded the streets downtown to protest against President George W. Bush and his planned military attack on Iraq. Today, that vision seems distant—not only because more than 2,000 Americans and tens of thousands of Iraqi citizens have died—but because the antiwar movement has scattered. Instead of massive, coordinated protests in Portland, the activism now seems to primarily consist of numerous, small demonstrations that have failed to draw much attention from the public.
The lackluster response is made all the more odd considering the number of black eyes the Republican leadership has sustained recently, which should be giving progressive groups ample inspiration to take to the streets en masse. Over the past several weeks, the Bush Administration has suffered several watershed moments—the 2,000th GI dying, the indictment of Vice President Dick Cheney's Chief of Staff Lewis "Scooter" Libby, and FEMA's paltry response to Hurricane Katrina (just to name a few).
Yes, those recent disgraces to Bush's White House have inspired a few more Portland residents to return to the streets. However, this momentary uptick has only raised more questions about the future of the antiwar movement in Portland. For example, what is the goal of local antiwar leaders, and do they even have the organizational skills to pull off anything besides pleasant little protests? And, perhaps more importantly, can they respond with a unified front, or will the antiwar movement continue to be fractured and, consequently, ineffective?
Recent and upcoming events give a partial answer. Last Wednesday, October 26, for instance, the Portland Peaceful Response Coalition (PPRC) joined with a handful of groups at Terry Schrunk Plaza to mark the death of the 2,000th American soldier in Iraq. According to PPRC organizer William Seaman, the event brought in a few hundred protestors—not an overwhelming number or particularly media grabbing.
Even so, that number is much more substantial than the paltry groups which have attended PPRC's weekly Friday night demonstrations. Seaman tried to argue that former activists are coming out of hibernation and giving a resurgence to the antiwar movement.
"There's been a reactivation of people who have been involved in the past who are now becoming more involved," Seaman said.
Meanwhile, a few days after the demonstration at Schrunk Plaza, Code Pink staged its own protest—a post-Halloween "Day of the Dead" themed demonstration in front of the Bagdad Theater, where they donned masks in the likeness of Bush Administration officials to terrorize the Hawthorne neighborhood. The event elicited a few honks from cars passing by.
Elsewhere, multiple groups—including Code Pink, PPRC, and the Catholic Worker—have begun staking out the army recruitment center on NE Broadway. There, activists have staged "counter-recruiting" events. They hope to bring attention to the Bush Administration's intense recruitment efforts in high schools and poor neighborhoods. But those events have yet to earn a whisper on the evening news or in the Oregonian.
(One event that might best gauge the health of the protest movement was scheduled to happen just after press time on Wednesday, November 2. The World Can't Wait Organization is holding demonstrations across the country to mark the one-year anniversary of Bush's reelection. The Portland event was scheduled for noon at Pioneer Square but, at press time, there was little information available and no clear idea of who was organizing it locally. The national campaign promises mass walkouts by students and workers—but so far, at least on the local level, uncertainty has trumped unified action.)
Considering how much Republican blood is in the water (indictments, incompetent disaster management, mounting Iraq deaths), it should be disconcerting that the antiwar (or, at least anti-Bush) movement is not even bigger. Leaders should be asking: If not now, when? And, what can we do to draw in more participation and attention?
Instead, Portland's activist community seems to be content to stage small protests for their own benefit.