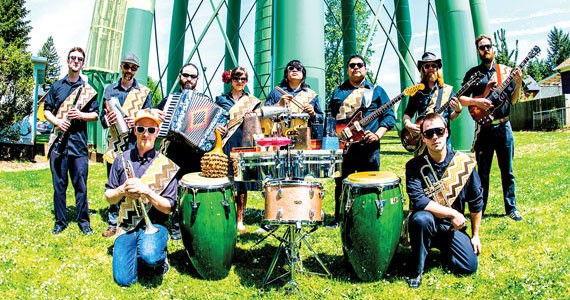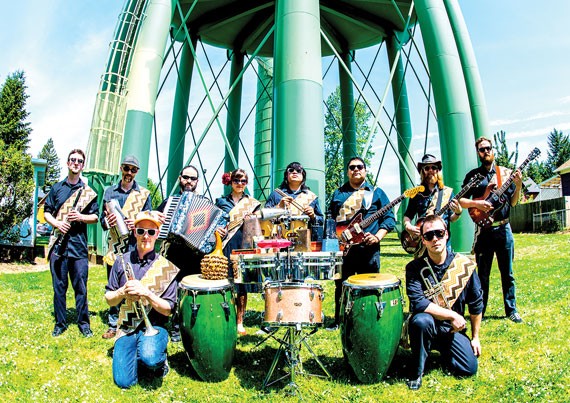 THE ROOTS of Portland cumbia band Orquestra Pacifico Tropical run deep in the life of local drummer David "Papi" Fimbres. He grew up in Los Angeles, the son of a hippie dad and a "classic Latina" mom. "She was always in the kitchen cooking and she had this dirty little AM radio in the corner that was always on," Fimbres says. "But I always remember it being on and hearing cumbias and rancheras and norteño music all the time. It was just being embedded in the back of my brain."
At age 20—after teenage years spent listening to rock bands like Nirvana and Sebadoh—Fimbres moved to Portland, a place "so damn white," he says it spurred him to dig into the music that filled his childhood home. "You take it for granted when you're in Los Angeles, because there's culture everywhere. So coming here, I was like, 'Whoa, whoa. I gotta remember who I am.'"
Fimbres began collecting vinyl compilations of cumbias and other Latin sounds and incorporating them into the music he was playing. He also started the Double Platinum Latinum DJ night with Carlos Segovia, now his bandmate in OPT.
Two years ago, Fimbres and Segovia decided to launch their own cumbia band, focusing on traditional Colombian and Peruvian cumbias from the mid-20th century. They built out the band to 11 members, bringing in three horn players and two guitarists to add the fuzzed-out, psychedelic sound that's especially prominent in Peruvian cumbias.
Steering the massive party boat is Fimbres, who plays in a bunch of other bands around town, including Gallons, Palabra, Mascaras, Glass Knees, Minden, and the currently defunct Sun Angle, although he says OPT "feels like [his] baby." In it, he plays a makeshift standing drum kit—kick drum, wood block, timbales—that provides a foundation for everyone else to build on. The result is an irresistible, hypnotically rhythmic wall of sound that's not only ultra-danceable, but also as hooky as a well-stocked tackle box.
"This stuff is somehow easily accessible to most humans," Fimbres says. "We always joke around in practice, like, 'Dude, if homies don't dance [to this], then they're just dead.'"
OPT's debut recording is the brand-new vinyl full-length Rio Frio, which features one original among its covers. The album is a sizzling good time, though Fimbres knows live is where the band excels—and is most likely to accomplish its primary goal: to get people together and make them dance.
"No matter how old you are, what color you are, or where you're from, people are just able to grasp onto this music," he says. "It's so cool just to bring cultures together."