You're reading this, so you survived St. Patrick's weekend. Maybe you're bright-eyed and bushy-tailed. Maybe you're stumbling around like that one dude on Normandy Beach at the beginning of Saving Private Ryan (you know the one). But either way—you're here! You made it! And as a reward, you get to partake in the week's worth of really fun stuff on deck, like a new era of The I, Anonymous Show hosted by Caitlin Weierhauser, the 10th birthday of the awesome Smallpressapalooza, the return of the one, the only, the real Tonic Lounge, visits from the Sklar Brothers and the Hood Internet, a panic at a disco or something like that, and much more. Hit the menu below and load your plate accordingly.
---
Jump to:
Monday
|
Tuesday
|
Wednesday
|
Thursday
---
Xenia Rubinos, Fritzwa, Rasheed Jamal
Last time the ultra-talented Xenia Rubinos swung through town, the Mercury's Jenni Moore characterized the singer as jamming "at an unmarked intersection of jazz, funk, electronica, punk, and indie rock." That's as fitting a description as any for an artist whose work is smart, surprising, and addictive—and thankfully, tonight we've got a more concrete address where we can find her. That'd be 10 and SE Morrison, better known as Holocene. ERIK HENRIKSEN
8:30 pm, Holocene, $10-12
The I, Anonymous Show
One of the funnest (and funniest!) comedy shows in town in undoubtedly The I, Anonymous Show, featuring rants and confessions written by YOU, anonymously, for the Mercury's I, Anonymous column and blog. The conceit for the show is simple: Read the I, Anonymous submissions aloud, and laugh as a panel of Portland's favorite mirth-makers engage in a hilarious, deep-dive discussion into the writer's wicked words. And this month's edition brings exciting news: Since former host Bri Pruett has left Portland to find her fame and fortune in LA, the I, Anonymous Show has a brand new host—the wondrously funny Caitlin Weierhauser (star of Lez Stand Up, her own XRAY.FM radio show, and a Harry Potter podcast[!!]). If you don't know her, get ready to fall in love! And for her debut, Caitlin will be joined by local comedy masterminds Shelley McLendon, Becky Braunstein, and Mohanad Elshieky—so don't miss the March edition of the I, Anonymous Show, and find out what happens when rants stop being polite, and start getting real. WM . STEVEN HUMPHREY
7 pm, The Secret Society, $10-15
Crate Diggers Live! The Rare Edition
A live episode of the local hip-hop podcast, featuring special guests Lang & Drae Slapz.
9 pm, Kelly's Olympian, $5
Emily Wells
Sonic deconstructionist Emily Wells is a master in the art of poetic, structured play. Ripping at the seams of classical technique with the Knife/Lykke Li-style electronica, Wells is a one-woman orchestra, spinning a transfixing web that blends the familiar with the experimental. JENI WREN STOTTRUP
9 pm, Doug Fir, $13-15
No! to ICE
Members of No! to Rape Culture are raising funds for the local immigrant youth and families they work. Pen a love letter to the folks they support or buy a few raffle tickets for a chance to win an acoustic guitar. BYOZine to share and receive a copy of "No! Borders," the collective's zine on immigration education and resources. PS. No! is in search of punk and hardcore bands to contribute songs about the intersections of rape culture for a forthcoming benefit compilation. Deadline is April 2nd. EMILLY PRADO
8 pm, Black Water Bar, free
Smallpressapalooza
The tenth annual marathon reading in honor of Small Press Month, with contributions from Diana Kirk, Hannah Pass, Keith Rosson, Sarah Galvin, Chrys Tobey, Christine Shan Shan Hou, Constance Ann Fitzgerald, Amy Temple Harper, James Gendron, Tiffany Scandal, Bobby Eversmann, and Jon-Michael Frank. Hosted by Kevin Sampsell.
6 pm, Powell's City of Books, free
The Criminal Brain
Dr. Octavio Choi kicks off the 2017 OHSU Brain Awareness Lecture Series with a look at how emerging neuroscience is challenging long-believed assumptions about the brain's influence on moral reasoning and criminal behavior.
7 pm, Newmark Theatre, $27-50
Town Hall with Commissioner Amanda Fritz
Two days of town hall meetings are scheduled with Amanda Fritz and you're invited to show up. In 2014, Portlanders voted to fund park improvements via the Parks Replacement Bond and it's up to you to decide how they'll spend the remaining $20 million in phase two. EMILLY PRADO
6 pm, Multnomah Arts Center, free
Repressed Cinema: Ed Wood's Jail Bait
This month the Hollywood's showcase for forgotten underground film features a 16mm screening of Ed Wood's weird (of course it's fucking weird) noir Jail Bait, featuring the first onscreen appearance of Steve Reeves, and probably the first noir you've ever seen scored via Flamenco guitar (that came from a completely different movie). The night also includes a collection of weird filmic flotsam and jetsam as pre-show entertainment.
7:30 pm, Hollywood Theatre, $9
I Wake Up Dreaming: Film Noir Festival
Elliot Lavine, former programmer of San Francisco's historic Roxie Theater (and a soon-to-be Portlander), brings 16 examples of the film noir style to Cinema 21, several on 35mm. With one or two exceptions, these are ticketed as double features; most of the films clock in at a brisk 80 or 90 minutes. Their concision only compounds their effectiveness—these are movies of paranoia, obsession, and unease, and they're eerily applicable to the mood of 2017.
Cinema 21, see cinema21.com for titles and showtimes
Nikki Lane, Robert Ellis, Jonathan Tyler
The Nashville-based singer-songwriter brings her blend of old-school country, early rock 'n' roll, garage-pop, blues, and soul to the Doug Fir in support of her highly anticipated third studio album, Highway Queen.
8 pm, Doug Fir, $16-46
Environmental Justice 101—People's Climate Movement Kickoff
In light of the climate deniers that have infiltrated the White House, a nationwide day of action called the People's Climate Movement is set to flood Washington, D.C. and beyond on April 29. This free, kid-friendly workshop led by OPAL Environmental Justice Oregon and 350PDX will provide an overview of the work already happening in Portland and inform attendees on how to get involved. EMILLY PRADO
6 pm, Multnomah Friends Meeting House, free
Chris Shiflett, Brian Whelan
Dave Grohl is such an omnipresent rock star, sometimes it's easy to forget that those other Foo Fighters have lives and interests of their own. Heck, sometimes it's easy to forget there are other guys in the band. But there are, and Chris Shiflett is one of them. He plays guitar in the Foos, and he did the same in the punk bands No Use for a Name and Me First and the Gimme Gimmes. But right now, Shiflett is exploring his interest in twang. He released a record full of honky-tonk covers in 2013, and now he's back with West Coast Town, which finds Shiflett kickin' back somewhere between Buck Owens' slick Bakersfield sound and the Rolling Stones' roadhouse country-blues. There are lots of good bands that do this well, but Shiflett holds his own as both a songwriter and roots-rocker. If nothing else, West Coast Town provides another perspective into the mind of a guy who can usually be found outside the spotlight. BEN SALMON
8:30 pm, Hawthorne Theatre Lounge, $16-18
Souvenir Driver, Daydream Machine, Melt
The Portland-based "bliss-pop" quartet hit Mississippi Studios for the release of their new High School Records-issued full-length. Local post-punk and psych rock outfit Daydream Machine spit the bill and celebrate the release of their own brand-new LP.
9 pm, Mississippi Studios, $5
Carpenter Brut, Magic Sword
French producer and composer Franck Hueso, aka Carpenter Brut, brings his horror-inspired electro and synthwave to the Star Theater stage. Boise-hailing electro dance outfit Magic Sword provide support.
9 pm, Star Theater, $12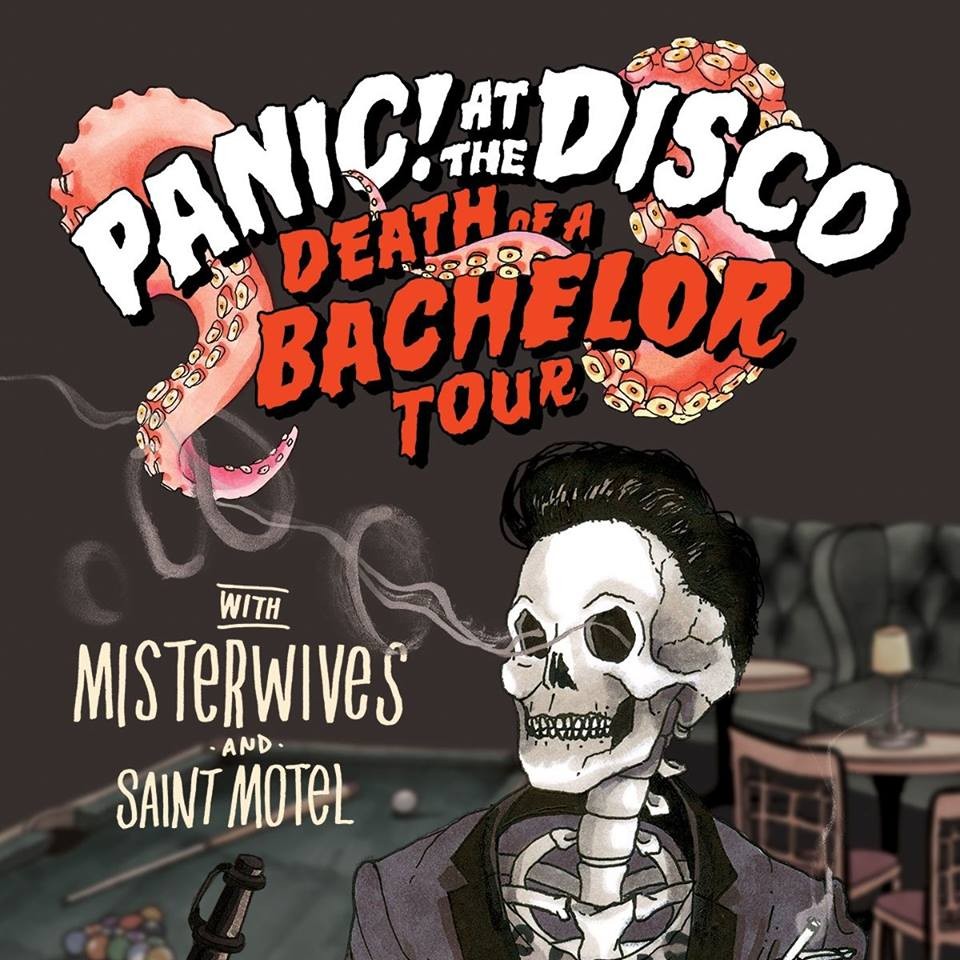 Panic! At the Disco, Misterwives
One of the benefits of having memorized "I Write Sins Not Tragedies" in middle school is that now the baroque-pop hit is prime karaoke material. Panic! At the Disco frontman Brendon Urie sings with over-the-top emo operatics that will forever remain a staple in the pop-punk genre (and the hearts of countless millennials). EMMA BURKE
7 pm, Moda Center, $29-125
Stranger in the Woods
From 1986 to 2013, Christopher Thomas Knight lived alone in the Maine woods—never interacting with anyone, refusing to even light a fire lest civilized folk find him, and committing more than 1,000 robberies to steal everything he owned and ate (including CHILDREN'S CANDY). So: super-creepy weirdo or iconic role model? You decide! Start by hitting Powell's tonight, where Michael Finkel will read from The Stranger in the Woods: The Extraordinary Story of the Last True Hermit, his new book in which he interviews Knight about nearly three decades of nature, solitude, and relentless home invasion. ERIK HENRIKSEN
7:30 pm, Powell's City of Books, free
Elvis Depressedly, Erik Phillips, Boreen, Clovver
Elvis Depressedly plays airy, chilled-out bedroom pop that covers its sadness and discomfort like a wool sweater. The Asheville, North Carolina, duo of Mat Cothran (guitar/vocals) and Delaney Mills (keyboards/synth/drums) is lo-fi by definition only. While the lo-fi signifier can be synonymous with warm power-pop and Ramones-inspired pop-punk, Elvis Depressedly falls at the opposite end of the spectrum. On their 2015 LP, New Alhambra, Cothran declares, "There is no such thing as rock 'n' roll" over a somber acoustic guitar and drum machine beat that's placed between frantic recordings of apocalyptic preachers. Each keyboard and synth line in an Elvis Depressedly song is packaged with the surprising sting of touching dry ice for the first time in middle-school science class. CAMERON CROWELL
7 pm, Parkway North at PSU's Smith Memorial Student Union, $15, all ages
Xiu Xiu, Force Publique, Mattress
Fresh off the release of their excellent Twin Peaks covers album, Plays the Music of Twin Peaks, Jamie Stewart's experimental noise and art pop project Xiu Xiu return to Portland for an all ages show in support of their brand new full-length, Forget.
8:30 pm, Holocene, $13-15, all ages
Hurry Up, Wild Powwers, Steel Chains
Liquor Store staples Kathy Foster, Westin Glass, and Maggie Vail bring their raw and raucous punk trio Hurry Up back to the basement for a mid-week rock session.
9 pm, The Liquor Store, $8
Point Juncture, WA, Gentle Spirit, Cassiopeia
Portland indie rockers Point Juncture, WA bring their terrific live show to the High Water Mark stage in support of their 2016 double LP, Me or the Party. San Francisco's Gentle Spirit and Cassiopeia provide support.
8 pm, High Water Mark, $6
The Epoxies, Sloppy Kisses, Conditioner, Silver Kings
Portland new wave and sci-fi punk legends the Epoxies reunite for special benefit show supporting Jonnycat Records founder Jonny Harbin in his battle with cancer.
8 pm, The Know
The Old 97's
As the Old 97's embark on their third decade as a band, you could easily ask one of these two questions: (1) Why aren't these Texas rock 'n' drawlers bigger than they are? Or, (2) Why don't other bands have it this good? As it is, the Old 97's are in a pretty sweet spot. A ravenous fanbase has allowed these guys to flourish—and when I say flourish, I mean make the music they want, which is a nifty combination of outlaw country, punk rock, and British Invasion hooks. Over the course of 20 years, the Old 97's have hit on all the familiar rock 'n' roll tropes—major labels, rowdy behavior, flirtations with pop success, frontman doing solo work. They've also managed to avoid putting out a bad record. Not many bands can claim that. MARK LORE
8:30 pm, Wonder Ballroom, $23-25
The Return of Tonic Lounge: Dead Meadow, Matt Hollywood & the Bad Feelings
NE Sandy's Tonic Lounge has been through ups and downs and even a name change or two, but now it's back as the Tonic and putting an emphasis on its best self: a rock 'n' roll den with a great showroom, homey front bar, and an excellent patio. Tonight the club kicks off its latest chapter with a psych blowout from trance-inducing volume rockers Dead Meadow and Matt Hollywood, who's sure to put swirls in your eyes. NED LANNAMANN

The Sklar Brothers
Randy and Jason Sklar have been doing this comedy thing for decades now, getting their start on MTV before MTV became a suckhole of vapidity, and transitioning to a variety of film and TV roles, most recently including a job hosting The United States of America for History Channel, and leading the iTunes charts with their podcast Sklarbro Country.
8 pm, Helium Comedy Club, $17-25
The Hood Internet, DJ Battles, Lamar LeRoy
The Hood Internet's creative work pairs the most unlikely of sources (R.E.M. and Holy Fuck?) in order to create music for the damaged attention spans of today's youth. Those in attendance should expect a set of all killer, no filler, and a dance floor that just won't quit. EZRA ACE CARAEFF
9 pm, Holocene, $12-15
Teenage Fanclub, Britta Phillips
Teenage Fanclub continues growing more comfortable in their sound as time progresses, coming to terms with their role as power-pop elder statesmen and one of the few '90s alt-rock acts to never have bottomed out along the way. EZRA ACE CARAEFF
8:30 pm, Wonder Ballroom, $20
Dan + Shay
The Nashville-hailing country duo comprised of vocalists and songwriters Dan Smyers and Shay Mooney hit the Crystal in support of their sophomore full-length, Obsessed.
8 pm, Crystal Ballroom, $22-25
Jonathan Rosenblum
Jonathan Rosenblum reads from Beyond $15, which chronicles SeaTac Airport workers and their successful fight to bring about a $15 minimum wage, along with the campaign's unlikely origin stemming from a battle which granted Muslim airport employees the right to pray at work.
7:30 pm, Powell's Books on Hawthorne, free
The Growlers
From their jangly, psychedelic surf-pop songs to their sun-drenched, hedonistic lifestyle, the Growlers are ideal poster boys for Southern California. Like their Burger Records compatriots, the Growlers have spurned traditional industry procedure by recording, designing, and releasing their albums themselves and by putting in long hours on the road to build up their fanbase. SANTI ELIJAH HOLLEY
8 pm, Roseland, $20, all ages
Hypernormalisation
A BBC documentary about society's progression to a point where politics and culture subsist on a steady diet of misinformation and confirmation bias, starting with Donald Trump's conquest of New York in the 1970s and proceeding through the histories of UFO sightings, Russian disinformation campaigns, and the internet.
7:30 pm, Hollywood Theatre, $9
Pure Bathing Culture, My Body
There probably isn't a single space-related word that hasn't been used to describe Pure Bathing Culture. Sure they're dreamy, astral, and euphoric—they'll turn your eyes into diamonds, your arms into flowing robes! They're downright mystical, and the reason we're running out of words to contain them is proof that you should have seen them live by now. JENNA FLETCHER
9 pm, Mississippi Studios, $12-14
Little Wings, Lee Gull & the Graves
Little Wing's music is somewhat soft and sensual, but doesn't lean too hard on any one thing. It's not as much about Kyle Field's distinct melodies as his distinct mood, which he evokes in his own performances and in listeners alike. ROBIN BACIOR
9:30 pm, Bunk Bar, $10
Nick Flanagan
A stand-up set from the Toronto-based stand-up, in support of his newest comedy album Wiped Privilege, with sets from Jay Shingle, Jake Silberman, Christian Ricketts, and Jason Traeger.
9 pm, Funhouse Lounge, $7-10
Don't forget to check out our Things To Do calendar for even more things to do!