Friday? Friday's for gettin' on the road and spending time with good friends (and maybe even some friends you shouldn't revisit if you want to remember them well). Saturday, well, Saturday's for sippin' on things, and smokin' on stuff, and letting the monster out. And then Sunday's about keeping it clean—but not too clean, just in time for the week to begin again. It's a pretty damn delightful weekend ahead; hit the links below and load your plate accordingly.
---
Jump to:
Friday
|
Saturday
|
Sunday
---
Willie Nelson & Family, Kacey Musgraves
The closest thing our corrupted country has to a national treasure is Willie Nelson—who, at 84 goddamn years old, is still touring, bringing his lovelorn, world-weary, funny, and sweet songs to the masses, and making all our lives better in the process. Tonight, the eternally badass Willie is playing outdoors at Edgefield—and he's brought along Kacey Musgraves, who, if we're lucky, represents what country will sound like for the next few decades. ERIK HENRIKSEN
6:30 pm, Edgefield, $73.50-109.50, all ages
Chastity Belt, Never Young, Strange Ranger
There's a lot to love about Seattle's Chastity Belt: Their band name. Their penchant for bucket hats and selfie sticks. Their wry sense of humor. But the four-piece's new album, I Used to Spend So Much Time Alone, cuts the irony for excellent post-punk driven by strong guitar melodies and vulnerable lyrics. CIARA DOLAN
9 pm, Star Theater, $12, all ages
Jeffrey Lewis, Rebecca Tilles
What can't Jeffrey Lewis do? He's the world's leading authority on Watchmen, a noted comic book artist, and a brilliant (anti-) folk singer and lyricist. This evening he'll swing through Portland for an all-ages solo acoustic show at Turn! Turn! Turn! that's guaranteed to lift your spirits heading into the weekend.
5 pm, Turn! Turn! Turn!, $10, all ages
King Louie & LaRhonda Steele
Renowned vocalist LaRhonda Steele and "Portland's Boss of the B-3 Organ" Louis "King Louie" Pain take their acclaimed blues and jazz act out to DeNorval Unthank Park as part of Portland Parks and Recreation's Concerts in the Park series. This evening's musical performance will be followed by a screening of the movie Hidden Figures at dusk.
6:30 pm, Unthank Park, free, all ages
Shook Twins, Taylor Kingman
If you fancy yourself as someone who keeps up with local music, there's a good chance you've heard of the Shook Twins. And there's good reason, because those twins work like an army. Their success is growing in a grassroots fashion, and not the kind that just involves selfies on Instagram. Their twin voices shape flawless harmonies, with a fluidity that likely comes not only from blood ties but endless touring. Their bluegrass-tinged, upbeat jam folk comes close to cliché, but it clearly comes from such an honest place it can't help but be respected and enjoyed. ROBIN BACIOR
7 pm, Revolution Hall, $22
DJ Quik & Scarface, Mic Capes, J-Ritz & Saywords, Rayvon Owens & Jay-Are, The Kings
If there were a Mt. Rushmore for gangsta rap icons, one could definitely make a case for the inclusion of Scarface. His iconic voice and knack for consistently delivering soulful vitriol through a hardcore Houston, Texas, lens have made Scarface a virtual deity in the South, and his influence on hip-hop is celebrated just about everywhere else. CHRIS SUTTON
9 pm, Crystal Ballroom, $30-35
The Bedrooms, Cockeye, UK Gold, Collate
Portland's Cockeye plays vicious, thrashing queercore punk that sounds like it could shatter glass. CIARA DOLAN
8 pm, Pop Tavern, $5
Caleb Klauder Country Band, Miss Lonely Hearts
I don't care if you don't like country music: the Caleb Klauder Country Band is the best live band in Portland. When this crack team of ace players lets 'er rip, the dance floor explodes in a hullabaloo of twangin', twistin', good old-fashioned American music. NED LANNAMANN
9 pm, Doug Fir, $13-15
Space Jam
POINT: Space Jam is very terrible and has no redeeming qualities whatsoever. Trust no one who says otherwise.—Erik Henriksen, Film Editor COUNTERPOINT: Space Jam is the most precious kids' basketball movie ever made! In a confusing time when GOAT Michael Jordan retired to play less watchable sports, kids were gifted Space Jam to aid in the grieving process. Portrayed as a humble family man, MJ gets sucked into a golf hole and recruited by the Looney Tunes to beat cartoon aliens at basketball. Is it far-fetched? DUH. But the Looney Tunes stay comically solid (as does Bill Murray), and the opening montage of Jordan's career is chill-inducing. Space Jam was also the debut of Lola "Don't Ever Call Me 'Doll'" Bunny, who yes, plays Bugs Bunny's romantic interest, but was also initially seen as a feminist icon. And don't get me started on the soundtrack!—Jenni Moore, Copy Chief
4:50 pm, 9:10 pm, Academy Theater
Hot Mass Block Party
Considering the dangerously hot weather we've been having, "Hot Mass" is an appropriate title for the gothic church-themed bar's outdoor concert this Saturday. In addition to draws like Church's "confessional" photo booth and high-quality menu of Southern-inspired food and drink, there's some great local music to be devoured: DJ Chookie Crisp will be spinning throughout the night, and exceptional hip-hop acts like Rasheed Jamal and Hustle & Drone will be on deck. JENNI MOORE
5 pm, Church, $5
It's So Bazaar: The XRAY.fm Summer Party
The city's best all-around radio station is going big with this one. XRAY.FM has booked out the White Owl Social Club for the entire afternoon and night, in a free bash that will pair a street fair (Clothing! Jewelry! Drink samples!) with a music venue. The station's fine slate of weekend DJs will be doing live broadcasts of their shows, while the likes of Cool Nutz, Møtrik and Surfer Rosie pop by to perform. This is fantastic news. DIRK VANDERHART
2 pm, White Owl Social Club, free
An American Werewolf in London (w/ special guest David Naughton)
John Landis is what some might consider a "problematic fave." It'd probably be easier to write the man off for his frequent foibles of moral character if he hadn't gone on an unholy tear in the '80s, the pinnacle of which, for many, is the comedy-horror classic An American Werewolf in London, which exploded genre boundaries, marked a dramatic leap forward in practical effects, and seriously boosted the careers of stars Griffin Dunne and David Naughton. Naughton will be attending this screening, and will talk about the film, and maybe even share a story or two that will simultaneously make you love and loathe Landis all over again.
7 pm, Hollywood Theatre
Primus, Clutch
Few bands can lay claim to homing such a unique combination of instrumentation, style, voice, and energy as Bay Area punk-funk-fusion trio Primus. They attained this distinction almost immediately after forming in the mid-'80s, fronted by virtuoso bassist Les Claypool and his twisted tenor. The band brought original drummer Tim "Herb" Alexander back for their 2014 Willy Wonka-inspired Primus and the Chocolate Factory with the Fungi Ensemble, and just announced the release of their ninth studio record, The Desaturating Seven, reported to be inspired by a children's book called The Rainbow Goblins. Lead single "The Seven" is vintage Primus, with staccato/tapping bass-guitar interplay and general bizarro-world lyrics. Whether tackling quirky funk-metal on early classics like Sailing the Seas of Cheese or Frizzle Fry or going full psychedelic shroom trip on Tales from the Punchbowl, Primus unites fans of musical technicality and the absurd in equal measure. RYAN J. PRADO
6 pm, Edgefield, $49.50, all ages
Pan African Festival of Oregon
The state's first festival specifically built to help empower Diaspora Africans in Oregon, with focuses on creating dialogue between communities, strengthening already existing community bonds, and of course, a whole bunch of great live music, food, vendors, arts and crafts, a live fashion show, speakers, a career fair, and much more.
noon, Pioneer Courthouse Square, free, all ages
1st Annual Portland Radler Festival
Radler is what you call a cocktail made using fruit soda... and beer. Which sounds weird at first, but if there's a whole damned festival dedicated to the drink it can't be all bad, right? In fact, it's pretty fuckin' delicious when you do 'em right, and so StormBreaker hosts one of the most refreshing beer fests the city will see this summer, with shade tents, live music, and radlers from over 20 local breweries and cideries for sipping.
noon, StormBreaker Brewing, $15
Illmaculate, Goldini Bagwell, Smoke M2D6, Little Warrior
Local hip-hop artists Illmaculate and Goldini Bagwell (of Sandpeople) celebrate the release of their latest full-length, Ethereal. Album producer Smoke M2D6 and featured vocalist Little Warrior lend their support to the proceedings. Hosted by The Last Artful, Dodgr and DJ Spark.
8 pm, The Know, $10
Wine, Whiskey, & Women
With the tagline "Celebrating the anomaly of womanhood," Wine, Whiskey, and Women is focused on celebrating local women who have contributed to the community and done much to help support women in the city. It's also about drinking wine and sippin' on whiskey, while looking at art, listening to live music, and meeting with amazing Portland women.
7 pm, Olympic Mills Commerce Center, $50
Grease
It really is kind of a mystery how this gross, skeevy homage to the glory days of teenage exploitation became a family-friendly sing-a-long, but it happened, so if you wanna pile the kids into the family wagon and park em in front of the drive-in screen at the Expo to belt out "Greased Lightning" at the top of their lungs, let 'er rip!
6 pm, Portland Expo Center

The Mystery Box Show
Portland's long-running storytelling series dedicated to the sexier side of things returns to the Alberta Rose Theatre. The night's wonderful oversharers will included Madison Young, Christopher Hoffman, Aleah Liebenau, Julie Peterman, and Aaron Rider.
7 pm, Alberta Rose Theatre, $20-55
Oregon Cannabis Growers' & Consumers' Fair
The Oregon State Fairgrounds hosts a two-day cannabis fair and live plant competition, featuring more than 60 growers and over 100 exhibits. Learn more about the OLCC with a Q&A session, and get insight into the medical side of things from a licensed medical professional at the Canna Help You Area.
Aug 12-13, 10 am, Oregon State Fairgrounds, $18-75
Distillery Row Birthday Beach Bash
The eight distilleries on the row decided August 12 would be as good a day as any to transform their liquor-filled fiefdom into a beach, so as to properly enjoy a beach party, with live music, food carts, spirits, and cocktails.
6 pm, House Spirits Distillery, free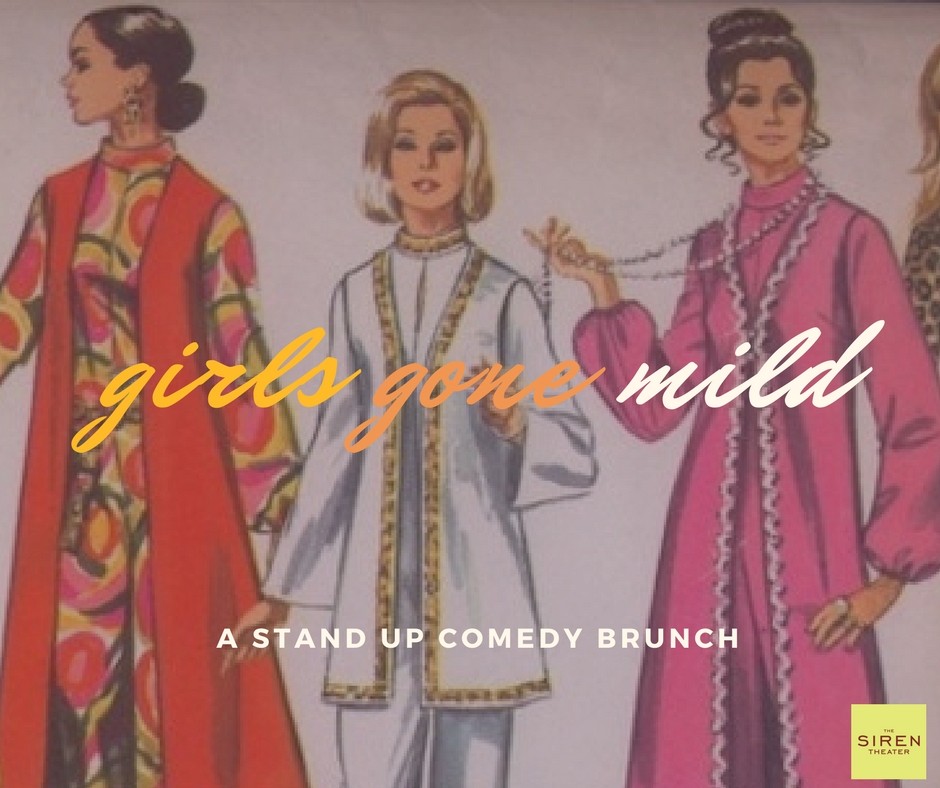 Girls Gone Mild: A Stand-Up Brunch
The Siren Theater, one of our finest purveyors of laffs, is now serving COMEDY BRUNCH, with Girls Gone Mild, featuring Portland's Funniest Person Caitlin Weierhauser (HEYO); Mercury Undisputable Genius of Comedy Kirsten Kuppenbender; and Lez Stand Up's green-haired fairy princess of jokes Laura Anne Whitley. Plus bellinis, mimosas, champagne, and a breakfast buffet, because god is real and she wants us to be happy. MEGAN BURBANK
11 am, Siren Theater, $12
Speck's Grand Opening Party
Since Speck's Records and Tapes quietly opened its doors this past March, the family-run record store has quickly become a favorite among local music lovers. Situated along the Kenton neighborhood's sleepy strip, Speck's carries a wide range of genres and small selection of audio equipment. Owners Michael and Maia Gersten invited a slew of promising local acts to perform in-store at this long-awaited grand opening. Headliner Fountaine will bring hazy hip-hop tracks from his new album, Hell for Infinite Losers (H.F.I.L.). Other highlights include dreamy pop trio Post Moves, masterful live mixing from DJ VNPRT, vinyl garage rock spins by DJ Stonebunny, and a pop-up from Moffenzeef Modular. Keep your fingers crossed for a surprise performance by DJ Bouncy, the owners' school-aged son. EMILLY PRADO
noon, Speck's Records and Tapes, free
Devil's Point Bikini Car & Dog Wash
If you're going to pay for a bikini car wash, you may as well go to one ran by professionals—even better if it's for a good cause! Devil's Point strip club, AKA the destination for all your Stripparaoke needs, is hosting its 11th annual Bikini Car and Dog Wash as a benefit for Family Dogs New Life, a no-kill dog shelter in Southeast Portland. For a donation, bikini-clad dancers from Devil's Point and Lucky Devil will wash your dog, car, bike, unicycle, motorcycle, scooter, skateboard, or whatever you're driving. The outdoor event will feature tunes from house DJs Kenoy and Brooks, and the Food Carts on Foster will provide eats. So if you want to help houseless dogs, have a vehicle in need of some serious suds, and want to see how a real bikini car wash is done, this is a great use of your time and money. JENNI MOORE
1 pm, Devil's Point, $20
Sister Speak
Canadian-born, Los Angeles-based singer/songwriter Sherri Anne, known by her stage name Sister Speak, brings her bluesy acoustic sounds to the Doug Fir Patio as part of the venue's Pickin' on Sundays series.
3 pm, Doug Fir, free
New Move, Rio Grands, Arthur & the Antics
New Move doesn't do anything by the book, and that includes not just their sound, but their showmanship. Pop music typically doesn't do what New Move makes it do.
8 pm, Rontoms, free
Holes
Remember when Shia LeBeouf wasn't an insufferable dipshit? It looked like this.
3 pm, Fifth Avenue Cinema
Drowse, Zen Mother, EMS, Floom
The Know hosts a full night of experimental music from near and far, with Portland's Drowse closing out the affair with a set of dreamy shoegaze-leaning soundscapes.
8:30 pm, The Know, $8
Inter Arma, Atriarch, Sól
If the recent 100-degree days and relentless sunshine are getting you down, duck into the Doug Fir's basement and wallow in the pitch-black sounds of Atriarch. The local quartet has been churning out lurching, death-obsessed rock since 2009, blurring the lines between sludge metal, droning doom, experimental noise, and strangled punk rock. Atriarch just released its fourth full-length album, Dead as Truth, on the world's leading metal label, Relapse Records. It's a harrowing slab of bleakness, with enough deep, dark anti-grooves to keep the devil's excavation business busy for eternity. The band's rhythm section (bassist Andrew Stromstad and drummer Maxamillion Avila) will crush your soul in slo-mo. Singer Lenny Smith possesses a hopeless howl and a ghastly groan. And guitarist Joshua Dark sounds like he's scraping evil off the walls of hell. Together, they're one of Portland's nastiest bands, and Sunday, they play the Doug Fir with Inter Arma, psych-doom masters in town all the way from Richmond, Virginia. BEN SALMON
9 pm, Doug Fir, $10
Don't forget to check out our Things To Do calendar for even more things to do!