You may have missed yesterday's post about Morgan Brownlow amidst all the Adams bullshit and Obama awesomeness.
The gist was that Brownlow, once acclaimed of Clarklewis, is moving full steam ahead on his Portland charcuterie. The Mercury reached Brownlow via e-mail yesterday, and he was kind enough to give us this update (which, based on the formatting, I'm assuming is a kind of poem ):
we have been test running the logistics of the biz for several years.
and specially raising our hogs thru a special finishing diet.
our response has been very positive as we have been sampling our product...
in portland over the last year...(and seattle also)
garnering support and taste results/praises
our pork is food alliance certified...
quite tasty too.
The special finishing diet, according to sources, is hazelnut. But the "quite tasty" part is obviously the bigger issue. The question on everyone's lips is, "Is it? You know... Quite tasty?" The good news is dinners at Beast this weekend will be some of the first to taste Brownlow's tails and trotters pork.
Chef Naomi Pomeroy is "so excited," about getting a chance to work with Brownlow's product. "I know him very well," she says, "I think he's a super skilled butcher and I'm glad he's using that skill."
Pomeroy will be using pork shoulder from tails and trotters, which she plans on stuffing with house pancetta and finishing with a whole grain mustard demi-glace.
Though Beast may be booked this weekend (I'm being vague because I didn't get confirmation if it was booked or not), there is always a chance for last minute cancellations. Pomeroy suggests that folks who have not made reservations can call 24 hours in advance to see if anyone has given up their spot in the dining room.
It could be worth your while.
Sponsored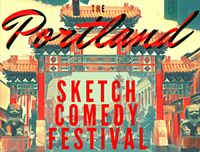 Sketch comedy troupes from all over N. America descend on The Siren Theater for 3 glorious nights.