City council has voted this morning to de-couple the future of Major League Soccer and AAA baseball in Portland, but there's still a contentious $15million hole in the city's contribution to the project which threatens to scupper the deal altogether before the September 1 negotiating deadline.
Sponsored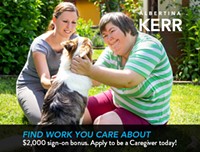 Become an Albertina Kerr Caregiver & help people experiencing intellectual and developmental disabilities.
"This has been the single most constructive instructive [updated Thursday, June 25, 11:49 am—"I said "instructive," not "constructive," says Leonard...your Mercury reporter apologizes for having misheard] set of processes I have ever been involved in," said City Commissioner Randy Leonard, introducing the resolution with characteristic optimism, given the history of the issue over recent weeks.
Multi-millionaire Timbers owner Merritt Paulson was nowhere to be seen at this morning's hearing, (update, 12:38: Paulson was in fact just seen going upstairs to the mayor's office, after the vote) preferring instead to be represented by former PDC boss Don Mazziotti, attorney Greg Peden, and his consultant, former mayor Vera Katz. Paulson and Leonard had a contretemps last week after Paulson's sudden withdrawal from Lents baseball.
"So many people have been arguing this issue from the point of view of dollars and cents, and I think that misses the point," said Leonard. "You can't argue public education, community colleges or universities from the point of view of dollars and cents. Just as with Major League Soccer, it's a quality of life issue."
"There are many Fortune 500 companies who want to know what facilities are available for their employees to recreate," Leonard continued, before Leonard and Adams thanked each other for their "creativity, passion and endurance" on this issue.
Peden showed them a video of soccer recorded from KGW channel 8, where a KGW sports reporter had been to watch the Seattle Sounders. "When do you start getting amped for the game?" asked a KGW reporter of a Seattle fan. "When I wake up," he said. Leonard laughed.
"We need to get this moving because quite frankly my job depends on it," said Mazziotti.
"To know that Don Mazziotti may lose his job is quite frankly weighing on me," said City Commissioner Nick Fish. "Don made a very generous bid at our children's auction and the prize was parking his kids with Commissioner Fish's office for the day."
After sliming Mazzioti, Fish then raised the question of co-location for baseball and soccer in the one stadium—at the Oakland stadium, Fish said, there's a dual use. "Is this a fundamental barrier?" he asked. Mazziotti reiterated that it was, because of the structure of PGE park.
JEREMY WRIGHT: TIMBERS ARMY MEMBER...
"We're going to Timbers Army 2.0," said Timbers fan Jeremy Wright, who has commented here in support of the deal under the moniker "Finnegan" on numerous occasions. "I've had phone conversations with people from Newsweek, NBC news, all talking about Portland as a soccer city, and that would not have happened if you hadn't voted for Major League Soccer."
Then City Commissioner Amanda Fritz asked the big question: What's the status of the $15million in urban renewal money planned to fund the PGE park deal? And things started to get really interesting...
"No decisions have been made on whether or not to proceed with the creation of an urban renewal district," said Mayor Adams—visibly tense. "We're in the midst of evaluating that."
"There's no assumption of urban renewal, and we're looking at all other funding sources for our $15 million gap," Adams continued. "I think that it's everybody's goal to try to find another funding source than urban renewal, but urban renewal remains on the table as a last resort."
"By September 1, I don't believe we will have figured out how to fill that $15million hole but we will have made progress," said Adams.
"I've always believed that once the URA is formed this is a reasonable use of URA money," said Leonard. "But we haven't formed it yet, it would be inappropriate to commit the money. Nevertheless I want to be clear—and I've been back and reviewed the tapes—that Dan [Saltzman]'s objections were not to using urban renewal money itself." Leonard said Saltzman had allowed for urban renewal money to be used if the county and school district were at the table. Saltzman looked confused.
"I just want to be perfectly clear with the amendment that I offered back in March," said Commissioner Dan Saltzman—who voted back then not to use urban renewal money to support the deal. "The intent of my amendment was that if there's a $15million hole, I don't necessarily view that as our side of the ledger. If there is a process that leads to the creation of a new urban renewal area and this is going to come out of that, then that's going to have some time. And our attorneys have advised us that you can't borrow $15 million from an urban renewal area that is yet to be created."
"We may not all agree on that," said Leonard, referring specifically to 'whose side of the ledger' the $15million hole is on. "I think at some point there needs to be some integrity to our negotiations. We've made commitments on our contributions."
You could cut the air with a knife.
"The great thing about a democracy is that we can move forward with slightly different points of view on the detail," said Mayor Adams. "Today we're passing judgment on the resolution—we're not passing judgment on the mix of funding sources to fill that $15million gap."
We've been following the blah beginning of the urban renewal negotiations, but they are likely to get contentious in July as soon as the soccer issue kicks in.
"I want to state for the record that that gap was not on our side of the ledger," said Commissioner Fritz, voting. "I can't support any resolution that indicates that that financing is going to be funded with public money. I'm very disturbed that we are still spending so much time and effort on this issue."
Leonard sat next to her with a distinctly non-plussed expression on his face. The vote went 4-1.