Logan Lynn + The Gentry. Not officially part of the Portland Pride music line-up. But officially one of the badassest shows happening for Pride weekend.
So, Pride Northwest has announced its headlining entertainment for the ever-popular Portland Pride Waterfront Festival festivities, June 19 and 20. Here are some of the names:
Amber.
Angie Evans.
The Cliks.
God-des & She.
Yehonathan.
Oh yeah. And Blake Lewis, of course.
I've got to be frank, I just personally find little of that line-up to be compelling. But that's just me! You know how I roll [insert musical snobbish snorting noise here]. Pride Northwest has every right to waste spend its money on whatever kind of entertainment its little heart desires.
But! There's an upside to this. Because the mainstage offerings from Pride Northwest are so downright yawnsville, we here at Portland Mercury Queer Issue HQ are happy to recommend a boatload of alternative Pride weekend shows and queer performances, stacked with tons of great local talent, and we'll be doing just that in the weeks leading up to Pride weekend.
Here's an early tip: one of my fave Pride weekend shows this year features the ascendant electro-emo stylings of Logan Lynn + The Gentry, Saturday June 19 as part of a special Pride weekend Blow Pony showcase, which is also rumored to include the likes of Atole, Jer Ber Jones and Kaj-anne Pepper, among lots of other rad peoples. I should mention, btw, that Lynn kicks off his Northwest tour, featuring a spate of Pride fest stops (Salem Pride! Capital Pride! The Cuff Block Party in Seattle for Seattle Pride!), TONIGHT at the Doug Fir, 9 pm onward. Lynn's thrown a couple of unreleased raw tracks from his new album my way for a listen, and boys and girls this kid is up to interesting stuff.
Sponsored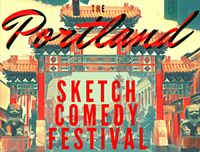 Sketch comedy troupes from all over N. America descend on The Siren Theater for 3 glorious nights.