Rose City Copwatch
, held a press conference this afternoon to follow up on the media coverage of
the cafe kicking out a cop
a few weeks ago.
The groups wanted to speak out about how the incident was "in no way comparable" to civil rights-era racial discrimination.
"A person can choose to be a police officer... you can put on the uniform or take it off," said John Langley, the cafe co-owner who asked the officer to leave.
"If a police officer came in without a uniform we wouldn't know," said Langley. The problem was with the uniform, which could make Red and Black Cafe customers, like animal liberation and environmental activists, feel uncomfortable.
Langley said he was "taking the officer's word" that he just came in for a cup of coffee. But he added that people know the Red and Black is an "anarchist space" that "is not looking to support the police."
"This is one of the only places in Portland that's going to ask police officers to leave," said Langley, noting that leaving the Red and Black out of the options won't leave a cop wanting for coffee.
Cafe cooperative member Ari Perez-Diez offered a short presentation on "transformative justice," an alternative to the police prompted by media (and commenter) discussion of what we would do without the police. She referenced organizations such as Generation 5, an anti-child abuse group, that use alternative processes to justice, such as public exposure of the perpetrator and incident.
Armed services veteran and Beaverton waste services business owner P.J. Mulcahy came to the cafe and press conference today as well. He wore his veteran's jacket and seemed to be there to see whether he would be thrown out.
He asked Langley to apologize for the incident, and when he didn't, said that would be the only way to solve it and offered some vague comments about "maintaining the peace" and a conflict that would be ongoing.
Sponsored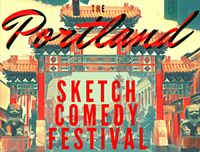 Sketch comedy troupes from all over N. America descend on The Siren Theater for 3 glorious nights.