On Friday at New York Comic Con (
where there was also some news from DC and Marvel
), Dark Horse Comics announced a change in their digital distribution strategy. So far, Dark Horse has been offering issues as individual apps through the App Store, but starting in January, they'll be distributing issues through the "Dark Horse Bookshelf"—an umbrella app that, like Comixology (or the Marvel- and DC-branded Comixology apps) will collect issues into a single app, enabling in-app purchases and significantly de-cluttering home screens.
Sponsored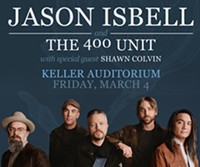 Jason Isbell has established himself as one of the most respected songwriters of his generation. Don't miss Jason Isbell and the 400 Unit, March 4th at Keller Auditorium!
(Christ, here I am trying to write a comics post and I feel like I'm a tech writer all the sudden. WHAT A BRAVE NEW WORLD.)
Anyways! Take it away, press release:
By creating and managing its own digital publishing program—the Dark Horse Bookshelf app—Dark Horse Comics has eliminated third party fees on its digital editions. Not only will readers be able to enjoy Dark Horse comics at lower prices, but comic creators will receive a greater percentage of each digital sale. In short, readers pay less for their comics and creators make more money.
For the most part—aside from comics bundles that'll contain multiple issues of certain comics—it sounds like Dark Horse will charge $1.49 per issue though Bookshelf, and that at least some Dark Horse titles will be available digitally the same day they show up in comics shops.That $1.49 is definitely cheaper than Marvel and DC's digital comics, which currently run from $0.99 to $3.99 per issue, with most at $1.99. Still, and possibly because I'm a cheap bastard, I think the price point of digital comics is too high—anything above $0.99 per digital issue seems a bit steep to me—but even so, this all sounds promising*.
Even better? For a limited time, Dark Horse is currently offering a slew of their individual comics apps for free. Head over to the App Store and search "Dark Horse Comics"; I'd definitely recommend picking up the free versions of Beasts of Burden #1, B.P.R.D.: Hollow Earth #1, Fray #1, The Umbrella Academy #0, and The Terminator: 2029 #1. (Full disclosure: I have a "special thanks" credit in that Terminator comic, mostly because as soon as I found out that book was happening, I proceeded to annoy that book's editor for months on end with all my thoughts regarding killer robots from the future. Which I have a lot of, apparently.)
*Post-script: I've got an email in to Dark Horse about two questions I have regarding their digital distribution plans—namely, whether Bookshelf users who've already downloaded individual Dark Horse Comics apps will be able to redownload those comics for free within Bookshelf, and also if Dark Horse plans on updating some of its currently available comics apps, a good number of which look pixelated on high-end displays like that of the iPhone 4. I'll update this post once I hear back.
UPDATE (Post updated at 11:30 am PST on Oct 12, 2010): Here's Dark Horse's response to the above questions, via Chief Information Officer Dale LaFountain:
"We're definitely going to be offering an upgrade path for those who previously purchased our single-title apps. There will be a small update to each app that directs the user to visit the Dark Horse Digital Bookstore and register for an equivalent download in the bookshelf app. Only selected current titles will be upgraded by the launch date. The remaining apps will be upgraded as soon as possible after launch.

"We don't currently have any plans to upgrade the content of the existing apps. Instead, we're concentrating our efforts on creating the best possible launch titles for the bookshelf and moving everyone to our new reader platform."