Welcome to Bio Hazard, a monthly uh, semi-regular Blogtown column by local film writer D. K. Holm that delves into the best (and worst) in Hollywood biographies. This month:
Angelina: An Unauthorized Biography
. —Erik
Sponsored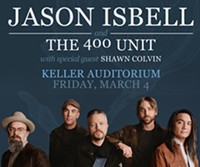 Jason Isbell has established himself as one of the most respected songwriters of his generation. Don't miss Jason Isbell and the 400 Unit, March 4th at Keller Auditorium!
Does the public truly like Angelina Jolie?
Sure, the actress won an Oscar, has been heralded as sexy in magazine polls, and—at the opposite end of the value spectrum—is a staple of grocery store tabloids. But does anyone ever say, "Let's watch Tomb Raider again tonight"? Does the public really wonder who she's wearing on the red carpet? Have they memorized her tattoos, or the birth order of her children?
Anecdotal evidence suggests that the public doesn't embrace Jolie as an icon—but the publishing industry does, so now St. Martin's Press has issued Andrew Morton's biography of the 35-year old actress, Angelina: An Unauthorized Biography.
Born into Hollywood royalty as the daughter of actor Jon Voight and his then-wife, Marcheline Bertrand (herself the offspring of a wealthy, snobbish Midwestern family with showbiz ambitions on its maternal side), Jolie had a seemingly typical L.A. upbringing: divorced and feuding parents, a close younger brother in her shadow, a phase as a street Goth, a brief modeling career, and a trip to stardom so speedy it must have been fueled by Satan. As an adult, Jolie seems to have modeled her career after Elizabeth Taylor (numerous husbands swiped from other women), Madonna (multiple reinventions, and a taste for baby collecting), and her own father's political commitment to social amelioration (Voight began as an activist, before falling into the clutches of an oddball family of hustlers and becoming a right-wing proselytizer).
Morton, biographer of Princess Di and Tom Cruise, has not only combed the tabloids and magazines but has also interviewed friends and colleagues and a couple of shrinks who are happy to armchair analyze (her Mia Farrow-style child collecting, apparently, stems from abandonment issues). But as is typical of bios of living celebs, the earlier years are fuller than the present because few peers want to cross a powerful competitor.
Most of the tabloid tales are here: Jolie's heroin use (she preferred to smoke it), her bisexuality, her vicious feuds with dad, her marriages to Jonny Lee Miller, Billy Bob Thornton, and Brad Pitt, her knives and blood fixations, her goodwill tours, her flings with the likes of Mick Jagger, Timothy Hutton, Nicholas Cage, Ralph Fiennes, Russell Crowe, and Ethan Hawke, and the gradual reshaping of her various images. There are other tidbits along the way:
• Voight's kid brother penned the Troggs tune, "Wild Thing" (page 16).
• Jolie had so much trouble breaking into the business on her own that her father secretly had to pave the way with discreet telephone calls, which Morton says Jolie still doesn't know about (page 101).
• During one of her many emotional low points, Jolie conferred with an assassin whom she planned to pay on an installment plan to kill her (page 133 - 134).
• Jolie's mother had a life-long crush on Mick Jagger. When the rock star took an interest in Angelina, mom actively promoted it, though Angelina wasn't particularly interested in Jagger. Marcheline became a telephone confident of Jagger's, whom she hoped her daughter would marry (page 132). Jolie, meanwhile, had a lifelong crush on Johnny Depp (page 163).
• Morton claims that Thornton trolled for girls on Jolie's behalf (page 191).
• Lover Jenny Shimizu introduced Jolie to Manhattan's S&M club scene (page 108). Later, Jolie took Mick Jagger to an S&M club, where they were publicly whipped (page 164). "S&M focuses you on survival," she says. On the set of Mr. and Mrs. Smith, her trailer was festooned with S&M gear (page 245). Her bodyguard was tasked with picking up bondage gear for the Pitts (page 190).
• One observer theorizes that Jolie is an exhibitionist who likes that her sexuality discomfits people (page 127).
• Jolie hates to be hugged and "disdains" those who cry (page 74). She never forgives, and she never forgets (page 22).
As a public figure, Jolie lives with endless tabloid gossip and books such as Morton's, but the outside observer wonders if celebrities, especially "edgy" stars such as Jolie, secretly like the publicity, even conspiring with paparazzi sneak attackers, as Morton suggests she does. Jolie and Pitt's various kids' first photos are sold to fan magazines for millions of dollars. From Goth girl to womb raider is quite a leap, but there seems to be a lot of opportunism and little joy in Jolie World.