Update 5:23pm: Good news! Local activist Reverend Chuck Currie reports that he called Portland Rescue Mission this afternoon and suggested they meet with LGBT advocacy group Basic Rights Oregon to understand "why this might be hurtful the gay and lesbian community." The Rescue Mission agreed—so maybe they're one big step closer to accepting the gay coats. /update
Sponsored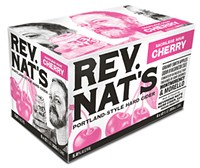 No-fee, same-day delivery of Rev Nat's Hard Cider & Old Town Brewing throughout Portland Metro
I just got an upsetting, disappointing call from queer performer Jeffrey Darling, a man whom many Portlanders might know better as his sexxxy-lady alter-ego,
Fannie Mae
.
In short, Darling, while planning his fourth annual Queer Quistmas holiday bash, was told this morning by the Portland Rescue Mission that they weren't interested in sponsoring a coat-and-sweater drive at the event. Because it's a "queer" event, he was told in a voice mail message. The mission is a "faith-based organization and there was some concern with how it might come across to some of our donors."
Darling is pissed. And he couldn't keep quiet, he says, calling the mission's decision "total bigotry." Darling, you might remember, went public this spring about a gay-bashing incident—he was beaten outside a bar—and helped put a spotlight on why the queer community sometimes feels uncomfortable reporting those attacks.
"It was a huge slap in the face," he says. "I know a lot of really amazing people who could have helped to donate to them. ... Do not donate to the Portland Rescue Mission if you are queer. This is a queer city. Even the straight people are queer, because we're all weird. ... I know it's a Christian organization, but haven't we gotten past that? Wash them if you think they're 'dirty.'"
Brian Merrell, the fellow at the Portland Rescue Mission who helps coordinate donation drives, left the message. He seemed disquieted when I called for a response. He didn't deny Darling's account, promising to call me back and saying "I have no comment at this point."
Darling expects to formally announce his event soon. It's planned for December 20 at Mississippi Studios, and in partnership with the Oregon Food Bank, no one will be allowed in unless they bring a canned good or two or five to donate. Darling says he's also raising money and awareness about ovarian cancer—his sister is grappling with it and her medical bills are well into six figures. In the meantime, he's looking for a new partner for the coat drive.
"I have 15 coats and sweaters i can donate, and I know I'm not alone," he says. "There are gay homeless people and they need a safe place, too. They need to wake the fuck up and get into 2010."
After the jump: a transcription of the voice mail message the Portland Rescue Mission sent to Darling. "Ums and all," he says. Read it for yourself. How lousy. It also makes me think of Street Roots' recent flap with Catholic Charities.
"Hi Jeffrey. This is Brian Merrell with Portland Mission Rescue Mission. We spoke yesterday, um, about, um, connecting for the, um...queer Christmas event, um, and I just wanted to get back to you and, um, let you know that um, I have ran that up the ladder here and unfortunately, I think we are going to need to respectively decline, um. Let me preface this by saying that we don't, do not, discriminate services to anyone, either outreach services or recovery services, meals or anything. But we are a faith-based organization and there was some concern with how it might come across to some of our donors. That, so, um, with that we are going to have to respectively decline, although I greatly appreciate what you want to do for us."