Sponsored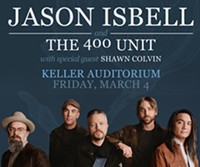 Jason Isbell has established himself as one of the most respected songwriters of his generation. Don't miss Jason Isbell and the 400 Unit, March 4th at Keller Auditorium!
Reel Music Festival. Says Ned:
For the 28th installment of its annual Reel Music Festival, the Northwest Film Center once again assembles a gaggle of music documentaries and music-related films to run over the course of the festival's 12 days, covering an impressive array of topics and musical styles. While many of the films come from afar (with several playing in Portland for the first time), there are a handful of local connections: Sunday, January 16, sees a two-hour program of music videos from local bands including Red Fang, the Thermals, and more, taking place at Mississippi Studios. Additionally, Portland filmmaker Lance Bangs hosts a series of his videos and other short music-related films shot over the course of 20 years on Friday, January 14.
Casino Jack. Says Marjorie:
[Director George] Hickenlooper's largest self-imposed hurdles are his insistence that this film be a comedy, as well as in asking the audience to sympathize with [Jack] Abramoff. The humor in such scenes as where Abramoff and ultra-douche crony Michael Scanlon (Barry Pepper) gripe about money while practicing their golf swings on a tarmac next to a private jet get parched quickly, and Abramoff's sense of moral superiority is as ineffective on the audience as it is compelling to himself—because in Hickenlooper and Spacey's hands, he isn't funny, relatable, or charming. He's just an asshole who's getting way too much attention.
All Good Things. Says Alison:
All Good Things' cinematic indictment seems irresponsible at best, but the film has enough storytelling problems to sink the endeavor on a purely dramatic level. [Director Andrew] Jarecki's got a fondness for cheap metaphors and easy parallels: As a hitman shoots a woman in the back of the head, David swats a fly with a rolled-up newspaper. When David's murderous rage finally reaches a boiling point, so does the teakettle in the neighbor's kitchen.
Country Strong. Says Zac:
Along with mega-celebrity status come new challenges as a middling, late-career actor, however: that of somehow transcending your pop omnipresence enough to trick an audience into believing you are an actual human being. The further away from your celebrity image you cast, the more implausible the suspension of disbelieve becomes—and the more hilarious the results. We believe it when Tom Cruise plays a megalomaniacal dickhead. We believe it when Angelina Jolie plays a soul-hungry sex monster. But please, Gwyneth Paltrow, have the decency not to ask me to believe a perpetual-stick-up-her-ass, such as yourself, is a fast-and-loose, down-and-out, alcoholic mess of a cuuun-try saaaanger.
And FINALLY, the only film that really matters this week: The Nicolas Cage-fighting-witches-and-demons-and-zombie-monks-during-the-Black-Plague epic Season of the Witch! Says Ned:
Oh, Season of the Witch is awful. It really is. The Dominic Sena-directed (Swordfish) horror fantasy is a clunky, overwrought piece of trash set against the Crusades and the Black Plague. Cage and Ron Perlman (who, sadly, turns in some of his shittiest work in his relatively unimpeachable career) play characters named Behmen and Felson, respectively. When you put those names together, it sounds like a hokey comedy duo from the 1930s, but actually, Behmen and Felson are a couple knights—and BFFs!—during the Crusades, as demonstrated by the film's interminable opening sequence, in which we watch them dive into battle again, and again, and again, and again. (It looks like they just reused the same footage and simply changed the green-screen backdrop. Look, now they're fighting in snow! Now they're in the desert! Now they're fighting on the forest moon of Endor!)
Movie Times are here. And there's more, as ever, in Film Shorts, including reviews of Summer Wars, Marwencol, and Forks Over Knives.