Sponsored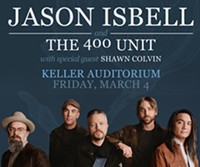 Jason Isbell has established himself as one of the most respected songwriters of his generation. Don't miss Jason Isbell and the 400 Unit, March 4th at Keller Auditorium!
Portland Monthly's new issue features their take on the 32 first pizzas they thought of best pizzas in Portland. While they get the top of the list pretty much right (I'll quibble that Dove Vivi should be included alongside Ken's, Apizza Scholls, Nostrana, and Lovely's Fifty Fifty in the "Master Class" category), it's rounded out by names pulled randomly from the "pizza" section of the yellow pages—Pizza Schmizza? Gag me with a spoon. No Lonesome's? No Wy'East? No Depokos?
Willamette Week struck back with a top-ten list of pizzas that PoMo missed. They take care of most of my complaints, but I think UFO's deserves a place somewhere. Certainly above Hot Lips. Anything else that's been snubbed? Full Lists after the jump.
Portland Monthly
MASTER CLASS
Ken's Artisan Pizza
Apizza Scholls
Nostrana
Lovely's Fifty-Fifty
HIDDEN GEMS
Serratto
Grüner
Firehouse
Double Mountain Brewery & Taproom
P-TOWN SPECIALS
Mississippi Pizza Pub
Tastebud
Sizzle Pie
Pyro Pizza
CLEVER CRUSTS
Dove Vivi
Give Pizza a Chance
Sellwood Pizza Kitchen
Al Forno Ferruzza
FAMILY FAVES
Good Neighbor Pizzeria
Old Town Pizza
Café Castagna
PIES WE LOVE
Escape From New York
Flying Pie
American Dream
Vincente's
Nicola's
Pizza-a-Go-Go
Pizza Schmizza
Hot Lips
Bella Faccia
Mi Famiglia's
Eddie's Flatiron Pizza
Pizzicato
Willamette Week:
Pizza Contadino
Pizza Depokos
Pizza Fino
Girasole Pizza Company
Gladstone Street Pizza
The Globe
Lonesome's Pizza
O'Malley's
Portobello
Wy'East