Bibulous British actors have long been a cliché of the trade, and new biography of history's most crapulous quartet is probably the most thorough drunk tank log of actorial excess ever.
Sponsored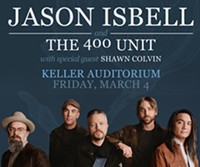 Jason Isbell has established himself as one of the most respected songwriters of his generation. Don't miss Jason Isbell and the 400 Unit, March 4th at Keller Auditorium!
Like this (occasional) column, Hellraisers: The Life and Inebriated Times of Richard Burton, Richard Harris, Peter O'Toole, and Oliver Reed (Thomas Dunne Books) is an anthology of dissipation. (It's out now in hardcover, but comes out next month in paperback.) Robert Sellers, who has written books about Sting and Tom Cruise, tracks these tanked thespians from childhood on, decade by decade, each chapter rotating among the four in title order. Richard Burton (née Jenkins) was a Welsh rugby aficionado mentored by teacher Philip Burton, whose last name he took and who outlived him; Richard Harris came from a large, well-off family, and was violent and unschoolable; Peter O'Toole, born in Ireland, was raised in Leeds among what he called the "criminal class" (three of his childhood friends were eventually hanged for murder); and Oliver Reed, born in London privilege, grew up a bully whose favorite world was pub culture. Gay or at least bisexuality rumors always clung to Burton (after all, he was married to Elizabeth Taylor—twice), but Sellers doesn't address that possibility. On the other hand, numerous other actors and their boozing enter the main four's obits, and the reader reads corked cameos of Trevor Howard, Peter Finch, and George C. Scott, whose love for Ava Gardner didn't prevent him from trying to slug her — and this on the set of The Bible.
Like a Wikipedia article, the reader can dip in anywhere, likely to learn that:
• Burton could down two pints of beer in 10 seconds, some kind of dipsomaniacal record. While making The VIPs, Burton knocked off a gallon of cognac a day; on The Klansman, two quarts of whiskey a day. He didn't remember making that film.
• While at Oxford, Burton made an impression in Measure for Measure, but after the performance got so plastered he passed out and had to sneak back into school, whereupon he slipped on a rail fence, driving a spike up his rectum. Burton was given to relieving his bladder onstage into his costumes.
• O'Toole's youthful lisp and stammer was cured when a Swedish rugby player kicked him in the head, causing O'Toole to bite off half his tongue (it was sewn back on).
• Reed was so prone to pub brawls that all the knuckles in his hands were broken at one time or another. In the late 1960s, his film career was in such utter ruin that he took to driving a cab.
• In 1979, Reed made The Brood for David Cronenberg. His costar was Samantha Egger, with whom he had played doctor when they were five years old.
• Richard Harris had a tendency to loathe his costars, among them Marlon Brando, whom he thought was a poof, Charleton Heston, a stiff prig whose drinks he wanted to spike with LDS, and Julie Andrews, for whom he experienced "the greatest hate I ever had for any human being."
And there are many, many more stories about the far-gone four, along and those who fell under their soaked spell. Hellraisers is like a text-based version of Antabuse. Emerging from this book with a contact hangover, one can't think of liquor the same way—or be able to see these actors' films outside the red-rimmed eyes of their boozing.