Welcome to Bio Hazard, a monthly Blogtown column by local film writer D. K. Holm that delves into the best (and worst) in Hollywood-centric biographies. This month:
Conversations with Scorsese
, critic Richard Schickel's book of interviews with Ol' Eyebrows. —Erik
Sponsored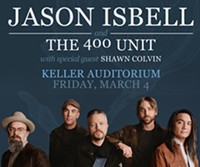 Jason Isbell has established himself as one of the most respected songwriters of his generation. Don't miss Jason Isbell and the 400 Unit, March 4th at Keller Auditorium!
Does Martin Scorsese ever weary of telling his life story? While doing press for each new film, he submits to a round of interrogations, many of which have been gathered into an anthology, Martin Scorsese: Interviews. And there's a full-volume interview, too—Scorsese on Scorsese—that has gone through periodic updates. Now comes Conversations with Scorsese (Knopf), a book in the tradition of Hitchcock/Truffaut and Cameron Crowe's Conversations with Wilder—a late-in-life summing up.
Conducted by Richard Schickel, the Luddite reviewer for Time, Conversations with Scorsese is built around softball questions pitched by a person who deems himself a friend (he continually calls his subject "Marty") and a peer (Schickel has directed movie history documentaries). For a balanced assessment of Scorsese's career, look elsewhere (like Roger Ebert's recent Ebert on Scorsese), and for gossipy details, consult Vincent LoBrutto's Martin Scorsese: A Biography. Still, in Conversations with Scorsese, one learns from the horse's mouth that:
• Scorsese showed Francis Ford Coppola a print of Mean Streets. The next day, Coppola hired Robert De Niro for The Godfather Part II.
• Scorsese's uncle got into trouble with mobsters and money, and Scorsese's father had to bail him out on a regular basis—even lending his brother $200 dollars on his deathbed. The uncle died under a year later. Their relationship formed the basis for Mean Streets.
• Martin knew gangsters in his youth, including a neighborhood fixture, a killer who was "like an uncle" to Scorsese, and who died in 1968.
• Scorsese flirted with joining the priesthood, that being the only alternative to a life of crime for youths in that milieu. But he was thrown out of the seminary and ended up going to NYU.
• Citizen Kane, The Third Man, and Cassavetes' Shadows made Scorsese want to become a director.
• Scorsese was fired from all the first features he was hired to work on, including Woodstock and The Honeymoon Killers.
• There are three vague periods of collapse in Scorsese's life. The first occurred when he left Manhattan for Los Angeles to edit Medicine Ball Caravan, abandoned his first wife and child in the process. Though the book never nails down specifics, the second occurs around the time of 1977's New York, New York, when Scorsese was having an affair with Liza Minnelli and did a lot of drugs with members of the Band. Scorsese ended up in the hospital and nearly died from complications due to his asthmatic condition. He doesn't go into much detail about the third crisis, but it may have been the reception to The Last Temptation of Christ.
• Though Scorsese's personal projects can be uneven (Mean Streets, New York, New York, Temptation, Gangs of New York), he had to be talked into doing some of his better works, such as Raging Bull, King of Comedy, and Cape Fear.
• We have Scorsese to thank for The Darjeeling Limited. Scorsese showed Jean Renoir's India-set masterpiece The River to Wes Anderson, who then ran off and made his film.
Conversations with Scorsese is well-illustrated, at least, with rare photographs and personal sketches, and you can really hear Scorsese's fast-paced voice as he discusses movies he loves—which makes the reader wonder why this is a print book and not an audiobook. And this reader wishes Schickel were less deferential: As with his previous books on specific filmmakers, Schickel once again declines to be a bull in the cinematic china shop.