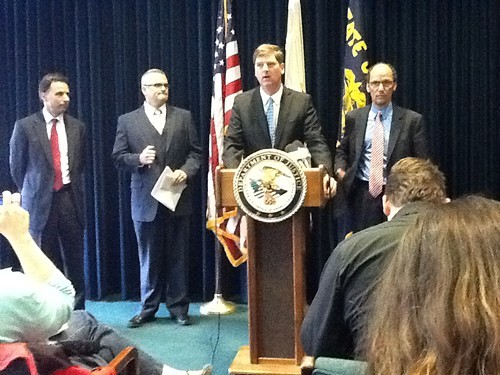 From left to right: Mike Reese, Sam Adams, Dwight Holton, and Tom Perez.
The U.S. Justice Department announced today that will immediately begin investigating the Portland Police Bureau for civil rights abuses, examining in particular "whether there is a pattern or practice of excessive force used by PPB officers, particularly against people living with mental illness."
The department's attorneys and police experts will first "confer with members of the PPB," including top commanders and rank-and-file officers, according to a letter sent to Mayor Sam Adams' office this morning. Investigators also will consult community groups and others familiar with mental illness treatment and the criminal justice system. The announcement comes a day after the Justice Department said it would not file any federal criminal charges in the January 2010 shooting of Aaron Campbell, a mentally distraught man shot in the back by an officer during a standoff.
Sponsored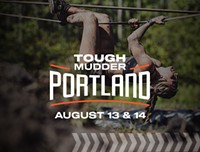 Lock in your summer adventure, Portland. Join us for world famous obstacles over a 5K or 10K distance.
"Over the past 18 months, there has been a significant increase in officer-involved shootings. And the majority of persons involved were individuals with mental health issues," Tom Perez, assistant attorney general in charge of the Justice Department's civil rights division said at a news conference this morning that also included statements from U.S. Attorney Dwight Holton, Mayor Sam Adams, and Police Chief Mike Reese.
The probe will be conducted jointly by DOJ's civil rights division and the U.S. Attorney's Office of Oregon. In a statement, the Justice Department said it will "consider all relevant information, particularly the efforts that Portland has taken to ensure compliance with federal law." This inquiry comes, Perez says, at the same time Justice Department investigators are probing the state of Oregon's mental health infrastructure and its failures to provide adequate treatment. The two inquiries will draw from the same pool of investigators.
"There's a very real linkage," Perez told a room that included many in the police accountability community who had also called for the review, from the Albina Ministerial Alliance Coalition for Justice and Police Reform to to Portland Copwatch, to members of Campbell's family, who are suing the city with the help of attorney Tom Steenson. Steenson previously represented the family of James Chasse Jr., winning a $1.6 million settlement last summer for Chasse's 2006 death at the hands of officers.
Perez said Justice Department investigators will "follow the facts where they lead" and has asked the city for its cooperation in hopes of avoiding "contested litigation." He pointed to other civil rights investigations in Cincinnati, New Orleans, Seattle, and Los Angeles, among others and said "independence and collaboration are not mutually exclusive." Possible outcomes could range from federal monitoring of the police bureau, Perez said, to just providing more training to Portland cops.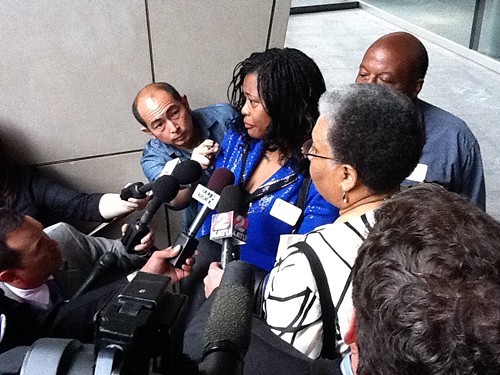 Aaron Campbell's mother, Marva Davis, answers questions.
Occasionally nodding during the remarks by Holton and Perez, Mayor Adams, when it was his turn to speak, said he would do all he could as police commissioner to work with the Justice Department. The mayor had joined then-Police Commissioner Dan Saltzman in
asking for a federal investigation in February 2010
, amid the outcry of the Campbell shooting. Saltzman was invited to the press conference but had a scheduling conflict.
"We more than welcome this investigation. We asked for it," Adams said, also mentioning that despite changes made in the bureau since he took over in May, including the rare step of firing the officer who shot Campbell, Ron Frashour, "we're humble in the knowledge that don't have it all figured out yet."
Later, he said: "My hope is there will be recommendations to improve."
In shorter comments, Reese—who has long been calling attention to the mental health system's failings—echoed what his boss said.
"This is a unique opportunity to ensure we are at the very forefront of best practices," he said. "We are accountable and we hold ourselves accountable."
Perez said his office conducted a preliminary review of the police bureau's practices and policies, and spoke with community groups, before deciding to launch a full investigation. He said the "number of shootings was certainly a factor," but that it wasn't the only factor.
Speaking to reporters after the news conference, Steenson, the Campbell and Chasse attorney, speculated on another factor. He said Chasse's family, after settling their lawsuit with the city last summer, began working with a Washington, D.C., attorney and presented at some point this spring, with Steenson's help, a separate, detailed request for a civil rights probe of the bureau's practices.
He says the bureau's practice, until very recently, of failing to discipline officers who used inappropriate force, fatal or not, contributed to a culture "where officers believe they can act with impunity" and that "patterns of unreasonable use of force" sometimes led to "the death of innocent citizens."
He criticized the bureau for not taking steps, despite receiving advice from consultants that effect in recent years, to limit how and when officers are able to use force, or to account for the mental state of someone when officers are deciding what level of force is appropriate.
"Hopefully the city of Portland, its police bureau, and its police union will open up and be receptive to change... and actually face to its problems and work with the Department of Justice," Steenson said.
During the press conference, meanwhile, Perez defended the Justice Department's decision not to prosecute Frashour, saying that proving Frashour willfully defied the Constitution involved "a very high standard. We concluded the circumstances of that case did not constitute a prosecutable violation."
But Perez also faced criticism from some advocates that the civil rights probe is focusing mostly on mentally ill victims of police use of force—and that it isn't investigating claims that the Portland Police Bureau systematically mistreats African-Americans.
Portland Copwatch's Dan Handelman says that although blacks in Portland make up only 6 percent of the city's population, they've made up nearly a fourth of all people shot at, fatally or not, by police officers since January 2000. He said he was among the community advocates contacted before the Justice Department made its decision.
"The fact that they didn't even mention it, I found insulting," Handelman said afterward.
When Jo Ann Bowman of the AMA asked Perez "how do we make sure race isn't lost" in this discussion, he replied that federal investigators "will listen to all corners of the community."
Marva Davis, Campbell's mother, who also has accused the city of harassing her and her family after her son's death, spoke briefly to reporters outside the federal courthouse downtown where the news conference was held.
"There's some very good police officers out there and some very bad ones," she said, close to choking up. "Things need to change. Obviously there's a problem."


WHAT CAN YOU DO?

Perez and Holton said they want to hear from anyone in the community who has a story to share about the police bureau's policies and practices, not just from people in power or advocates who regularly dive into accountability issues.

Send an email to this address: community.portland@usdoj.gov

Or pick up the phone and call this number: 877-218-5228.