I don't know if I can drink enough for this joke to become funny.
Sponsored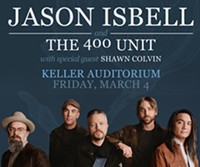 Jason Isbell has established himself as one of the most respected songwriters of his generation. Don't miss Jason Isbell and the 400 Unit, March 4th at Keller Auditorium!
Kicking a hornet's nest is a terrible idea, especially if those hornets earn a living shaping the opinions of your customers.
The Redner Group, a PR firm who counts 2K Games among their clintele, had the unenviable job of promoting the recent Duke Nukem Forever. The same Duke Nukem Forever that certain recent reviews likened to an elderly relative nonchalantly dropping incredibly racist comments about LeBron James. Certain recent reviews like this one.
In response, the PR firm tweeted the following:
too many went too far with their reviews...we r reviewing who gets games next time and who doesn't based on today's venom
Translation: The Redner Group intends to withhold future review copies of games from journalists who criticized DNF's misogyny and homophobia (read: all of them).
As Portland artist Bill Mudron notes, "This is like Santa Claus threatening to punish the bad kids by NOT shitting in their mouths while they sleep next year."
A more self-righteous gaming writer might call for a boycott of 2K Games products in retaliation for the PR firm's attack on honesty, but I'm a cynical realist.
So, uh, does anyone wanna spot me some cash for a copy of BioShock Infinite? It doesn't look like I'll be getting one gratis any time soon.
Update: Following a firestorm of enraged journalists splattering their incredulity all over Twitter, The Redner Group has tweeted the following:
I have to apologize to the community. I acted out of pure emotion. I will be sending each of you a private apology.
All donations made to the Buy Nex A Copy Of BioShock Fund will now go toward finding a cure for feline leukemia.
Update #2: 2K Games internal PR wizard Charlie Sinhaseni just tweeted the following:
2K Games does not endorse the comments made by Jim Redner and we can confirm that @therednergroup no longer represents our products.