Sponsored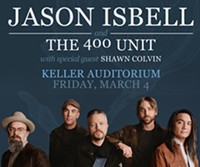 Jason Isbell has established himself as one of the most respected songwriters of his generation. Don't miss Jason Isbell and the 400 Unit, March 4th at Keller Auditorium!
I love Nick Denton. There, I said it.
Why, you ask?
First reason: When the Gawker media network unveiled its totally bullshit redesign I wrote a short missive on Twitter politely suggesting that the millionaire electronic media mogul "eat a bag of dicks," as I am wont to do.
Denton took time out of his busy schedule to respond to my suggestion, not with the wholly apropos "no, YOU eat a bag of dicks," but instead with the disarmingly polite "yeah, that's a fair opinion, sorry you don't dig the new design." Ladies and gentlemen, that is how you win the Internet.
Second reason: Because in Denton's quest to make his media empire "more like TV," he has acquired the rights to stream English-dubbed episodes of Japanese cult hit show Retro Game Master via Kotaku.
Verbatim details courtesy All Things D:
Gawker Media has bought the rights to the first 12 episodes of the show, which have been dubbed in English, and has the ability to show more if it goes well, says Kotaku editor Joel Johnson. The idea is to treat the show both as "live" TV — a new episode will be made available each Thursday, at 8 pm ET — and as traditional Web video — Kotaku readers can watch the show on demand whenever they like.
I still have no idea how the show (and especially its host, comedian Shinya Arino) manages to create entertaining television from the base concept of "watch man play 8-bit games and die, often," but for those of us who grew up playing 8-bit games, the nostalgia and bizarre humor of Retro Game Master is something I highly recommend.
You'll still have to brave the horrid Gawker aesthetics to catch the stream, but the show is totally worth it.
Once again, well played Mr. Denton.