What's the Hiragana for "network lag?"
Sponsored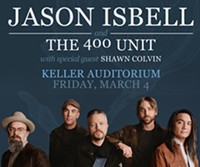 Jason Isbell has established himself as one of the most respected songwriters of his generation. Don't miss Jason Isbell and the 400 Unit, March 4th at Keller Auditorium!
On Monday, my review of Street Fighter III: 3rd Strike Online Edition appeared on this very Blogtown. Calling it "positive" would be an understatement tantamount to calling The Mercury's readership "attractive and sexually generous." In fact, I called it "the best fighting game release to date."
I stand by everything I said in that review, however, new information has come to light since the game's official launch yesterday, that may leave some of you reconsidering the purchase.
The PlayStation 3 iteration of Street Fighter III: 3rd Strike Online Edition went on sale on Tuesday, August 23. Like its Xbox 360 counterpart, it was priced at $15. Actually, the two releases were almost identical as far as content, gameplay balance and value were concerned.
The big difference between the two releases appears in the form of each console's respective online functionality. Both the PlayStation Network and Xbox Live offer online multiplayer gaming, but the latter will set you back $5 per month, and the former is totally gratis. While that is good news for gamers on a budget, it can occasionally cause problems.
According to this thread on the NeoGAF forums, PlayStation 3 gamers have been experiencing all kinds of anomalous behavior from their games, a good portion of which renders the title unplayable online. Given that the game's biggest selling point is its perfect, lag-free GGPO netcode, this is a huge blow both to the game's viability and to those Street Fighter fans who had been waiting years to play the game online without any stuttering.
What exactly are these issues that are cropping up? The (anonymous) friend who tipped me off to this debacle, explains: "We've got tons of input lag, the replays don't show player names for some reason and the system lacks a "region" filter. Thanks to the shitty PS3 lag, if you play anyone who isn't inside the US, you're screwed," he told me.
While Capcom denies the existence of the input lag, the firm has yet to issue an acknowledgement of the game's other flaws.
I should point out that despite the number of people claiming the same symptoms, these issues are currently anecdotal. I can't independently verify their claims, as the copy of the game I based my review on was the Xbox 360 release (and that game is still stunning).
Sorry to be the bearer of buzzkills, but if you were planning to buy Street Fighter III: 3rd Strike Online Edition from the PlayStation Network any time soon, you might want to hold off, at least until Capcom makes a statement.
(Post Script: Have any of you already purchased the game on PS3? How is it? I'd like to hear local anecdotes about the game's performance, if any of you have them.)