He's No. 1! Brandon Lee shows off the identifying tag officers placed on his ziptie handcuffs during his arrest this morning for occupying Main Street.
Guess what? Some of the Occupy Portland campers are
still deeply pissed off
that the police this morning
arrested eight people for blocking Main Street
between Chapman Square and Lownsdale Park.
Sponsored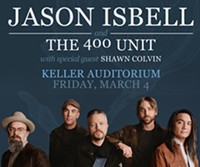 Jason Isbell has established himself as one of the most respected songwriters of his generation. Don't miss Jason Isbell and the 400 Unit, March 4th at Keller Auditorium!
A few dozen campers staged a pretty intense protest outside the Justice Center to welcome back six of the eight people arrested. And while the song after their release was a jubilant hymn about solidarity, that was about as nice as things got.
Before, in between chants of "set them free," popular refrains also included "fuck the police" and "all cops are bastards." With few exceptions, anyone who took the megaphone to calm things down or try to make the point that cops, if not their institution, remain part of the 99 percent, was shouted down.
Court is set for tomorrow at 2 pm, I'm told. What's clear is that the arrests may have dealt a deeper sting than anyone expected yesterday. Some campers could be heard lamenting the "fucking terrible PR" that the battle over Main Street presented. Others who supported the street occupation aren't happy more people didn't stick up for, and join, the resistance.
"Solidarity is what we need more than ever," one woman shouted outside the Justice Center. "Except this morning."
Can you guess which word I heard over and over and over, on all sides of the whole Main Street debate? Yup. It was "process."
Seems a lot of people at last night's general assembly have some different takes on exactly what was decided, or not, on what to do about Main Street. The meeting lasted four hours, and some campers said the contingent that backed fully opening the street gradually dwindled as procedural difficulties dragged through the night.
"Those people aren't coming back," one occupier told me—among a handful who said the difficult consensus process is actually turning off a lot of people who otherwise would support the movement.
Instead, the consensus as it appeared late last night was only to partially reopen the street, for emergency vehicles and bikes, but not buses and cars. One reason some of the protesters occupied Main Street: They were defending the general assembly's consensus, no matter how convoluted it might be.
Said someone else: Consensus problems will be "more effective than winter in atrophying this movement." Although winter will be pretty intense. Noting a not insignificant number of young campers out to "dance and party," "the second it gets cold, they're gone."
Both issues have spurred committee work—on what kind of long-term vision and plans Occupy Portland should nurture. Research is beginning on expansion and emergency regrouping locations, and also on how to prepare for ice and cold driving rain.
Oh, and I didn't realize this, but there's an engineering committee at the camp. They'll be taking the lead on winterizing (like painting tents with waterproof goo) and finding other solutions to camp-life problems (like no electricity). And they need help.
"We need deep-cycle batteries," says Ian Hediger—something to store the power generated by the camp's bicycle electricity generators. "We also need engineers, group-friendly engineers. A lot of us are just tinkerers."
Update 4:05PM: Central Precinct Commander Bob Day, walking through the camp this afternoon with Chief Mike Reese and Assistant Chief Eric Hendricks, said there was a ninth person who was moved from Main Street. But because that person decided to stay on the sidewalk and not get back in the middle of the street, he was not arrested. "One person got up," he said. "We didn't have any resistance other than passive resistance."
Also, heard from the mayor's spokeswoman, Amy Ruiz, on why and when a popular e-vehicle charging station at Madison and Fourth—used to juice up laptops and cell phones—was turned off. The Bureau of Transportation made the call.


They pay the bill. PBOT, via Commander Day, asked Occupy Portland on Monday to cease using it for uses other than electric vehicles. That use didn't cease, so PBOT shut off the electricity on Tuesday.