I find that bow endlessly adorable.
Sponsored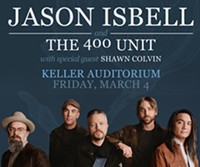 Jason Isbell has established himself as one of the most respected songwriters of his generation. Don't miss Jason Isbell and the 400 Unit, March 4th at Keller Auditorium!
Sunday, SUNDAY, SUNDAY!!!
(Did you read that in the monster truck announcer's voice? Good. It doesn't really fit the event I'm about to discuss, but I'm glad to know that you're all so pliable.)
As alluded above, this Sunday sees the debut of Ground Kontrol's "Ms. GK" ladies' night. In sum, it's an effort to attract members of the fairer sex to the world of videogames by first attracting them to Portland's finest retro arcade/bar.
And how do we attract people to things, regardless of gender? Cheap admission and copious drink specials!
Oh, but don't think dudes are left out of this Sunday's festivities just because they have external sexy bits. The boys are invited to Ms. GK, though they're asked to pay $5 more for admission (which, given the centuries of wage disparity between the two genders, seems fair).
Full details beyond the jump, or you can find them at Ground Kontrol's official site. Since I just CTRL-C'd the info off the GK front page, either option is viable.
As promised, full details, courtesy my ability to copy/paste:
Ground Kontrol is proud to present its inaugural ladies' night, "Ms. GK"! By popular demand, we've asked our very own "Diamond Dawn" (of Rock Band Tuesdays fame) to put together an awesome night for the ladies (and everyone else, too!)

In addition to a night of lady-centric gaming, free play on all games, drink & food specials and discounts on lady t-shirts, we'll have some special features:

Burgertime and The Machine: Bride of Pin*Bot casual tournaments and corresponding prizes from our sponsors SheBop, Things From Another World, and perhaps more! All skill levels are welcome!

Geeky craft exchange: Bring something cool you made, and take something home!

All set to a danceable soundtrack by deejay ReighLee, DJ Ava Delay, and DJ Pippa Possible!

Bring your friends or make some new ones — we're sure everyone will have a fantastic time during one of our most unique events!

WHAT: Ms. GK — Ladies' Night Free Play Party

WHEN: Sunday, October 16, 7pm-close.

COVER: $3 for ladies, $8 for gents. 21+ only.
And then, down at the bottom, the site asks prospective attendees to RSVP for the event via Facebook. So do that.