Update 8:35AM:
After some tension last night over whether to continue occupying the park, while I was typing the original post below, a few dozen people showed up and walked back over to Shemanski for an Occupy Portland governance meeting and decided to stay no matter what.
Sponsored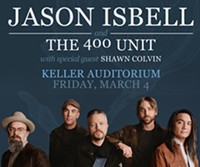 Jason Isbell has established himself as one of the most respected songwriters of his generation. Don't miss Jason Isbell and the 400 Unit, March 4th at Keller Auditorium!
That meeting stretched past the Park Blocks' 9 PM curfew, but police showed up a little after 10 told occupiers they could spend another night at the park provided "no structures" were in place and that people were mostly quiet. After some cat-and-mouse-type games over some tents that went down and then back up again—and, let's be honest, it was COLD last night, who could blame anyone for trying—the police left for the night.
And Occupy Portland, for the first time since it was booted from Chapman and Lownsdale Squares on November 13, had spent two nights in a closed park with the city's tacit, if not official, blessing.
Original post starts here: Apparently just a little more than two hours ago, according to a handful of downcast occupiers huddling at nearby Director Park, Occupy Portland's would-be reoccupation packed up in a hurry after drug dealers—and not more riot cops swinging batons—showed up with the promise of a clash.
I showed up about an hour and a half after the reported incident went down. About 15 people were sitting on the benches in Director Park, the movement's most recent home for its general assemblies and spokes council meetings, with the remnants of today's food. And many were decidedly unhappy—with what happened, and how occupiers either responded or didn't.
Talk among some at Director Park was that drug dealers wielding skateboards surged in, ate some food, and spat in some occupiers' faces while demanding they leave. Some reports said they were gang members, but that's not confirmed. Either way, the campers packed up and boogied out, hoping to avoid more violence, which had some like Dog Mike, an organizer of the reoccupation, complaining that it looked like the movement was more willing to "kowtow" to drug dealers and not the city.
"All those people who were out here at 3 am dancing need to decide if it's our park," he said. "You're willing to get beat up by riot cops, but you're not willing to get beat up by gang members?"
Said another occupier, Troy Thompson, the guy who was arrested last night after scaling the second-floor roof of city hall and erecting a Guy Fawkes Christmas tree. "We could smash 'em back, but what would that do to our movement? We're not another street gang. We're not here for a gang war."
But another occupier who said she watched the confrontation argued it wasn't as violent as some were claiming. Yes, some face-spitting happened, but only after a lone dealer—a pot dealer—asked the lingering campers to please leave and keep the police away from his previous place of business.
"It was kind of the same problems we had down at the other park, the original Occupy," she said. "Portland has a homeless population and there were people that lived in these parks before Occupy was even a glimmer in anyone's eye. When we show up, we kind of mess it up. We bring all sorts of noise to these people's homes.
"It causes occupy to bring police and noise that he doesn't need. He's got a baby. He's feeding his baby and we've got no business messing with him. He asked: 'Just get off my blocks. I'm just trying to make a dollar."
When I first stalked through Shemanski tonight, a few people on the benches near Main Street, were talking about how Occupy was driven off. But on a check a while ago, the only people I saw were Schnitz types cutting through and a KOIN reporter doing a standup.