Last night, LA-based GOOD magazine hosted a design challenge for Portlanders. As part of a design project in several mid-size cities, the magazine asked locals like Mayor Sam Adams and the Portland Farmers Market to submit challenges, then asked design teams to tackle the problems in creative ways. The six teams from W+K, Ziba, Sincerely Interested, THINK.urban, ADX, and the Official Manufacturing Company presented their ideas last night at the Pearl District headquarters of Ziba. The house was packed!
Sponsored
Sketch comedy troupes from all over N. America descend on The Siren Theater for 3 glorious nights.
Tickets sold out pretty fast, but luckily I was there taking notes. Some of the teams' ideas were pretty expensive and wildly innovative—but, hey, not crazier than anything Portland already has (let's build a streetcar!). Here's my rundown, including most (but not all) of the ideas designers pitched.
CHALLENGE (from city planner Eric Engstrom): How can we rethink our public space to promote healthier and more active lifestyles?
IDEAS (from the OMFGCO):
• Almost all public art in Portland is passive (except that dangle ball across the street from Powell's, which people can move if they want to get up close and personal). How about some kinetic public art, like a water feature for kids that only works if people are pedaling?
• Parking meters fed by exercise. "It's about more than just not driving," said the team. Instead of paying a buck to park, you could pedal for few minutes on a bike attached to a parking meter.
Lots more below the cut!
CHALLENGE (from Portland Farmers Market chief Trudy Tolliver): Local farmers are reporting that they are working more markets yet making less money. How do we increase access to fresh locally grown food while ensuring profitability for our region's farmers?


IDEAS (from arts group Sincerely Interested):
• A Friday night Farmers' Market. Make a market more of a fun, going-out destination and celebration. People head to the Hawthorne carts at night to buy greasy fries and sugary crepes, why not beets and apples? Actually, after the presentation, Tolliver said the idea of a night market was something the Farmers Market was already tossing around.
• Install billboards of farm landscapes around Portland to "weave food into the social fabric of neighborhoods."
CHALLENGE (from Sam Adams' office): How can our neighborhoods, and institutions in them like businesses, work better to support youth, their educational outcomes and opportunities?
IDEAS (from WK):
• Market the idea of volunteering and supporting schools to the 85 percent of Portlanders who don't have school age kids. People in Portland are already excited about supporting local institutions, but schools often aren't on their radar. "We need to the local school to be a part of people's neighborhood that they take ownership over." This means a slick volunteer marketing campaign at neighborhood businesses, as well as developing logos for schools that can be sold on mugs, shirts, and ephemera. "Instead of searching every Goodwill, our hipsters will get a limited edition t-shirt that will actually connect to and support schools."
CHALLENGE (from BikePortland.org editor Jonathan Maus): How can we create a major new bikeway that helps make bicycling as visible, safe, convenient, and pleasant for as many people as possible?
IDEAS (from PSU grad student nonprofit THINK.Urban):
• Take a cue from Europe and build two-way cycletracks on Portland's biggest streets. The two-way lanes would be separated from cars on streets like Sandy, Broadway, and Hawthorne, by a grassy median. "Prioritize bikes on the same level as cars. People are tired of looking at Europe. We want to see these things here now."
CHALLENGE (from city of Portland Sustainable Food Policy Manager Steve Cohen): How do we get the residents of Portland to consume less meat?
IDEAS (from Ziba):
• Make an app and website that will let people put in their ingredients and dinner ideas, then set slider bars for options like cost, CO2 impact, health, and environmental friendliness that will tell them which ingredients are out of sync with their goals.
• Harness kids' pester power by giving kids meal bingo cards for healthy food to cook at home. When the kids fill up a whole card, they get a gold star sticker!
CHALLENGE (from the Portland Development Commission): How do we help nurture a stronger, more competitive business climate in Lents Town Center?
IDEAS (from ADX):
• Lents already has a lot of great people, businesses, and spaces. Instead of building new projects and gentrifying, create a branding campaign called "I'm already here!" to promote good things in Lents.
• Turn the vacant Marshall High school into a giant community hub, which a farm on the old school field, a cafe, and summer camps for kids.
Sponsored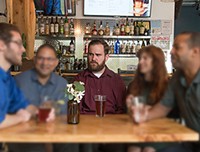 Adults aged 18-35 with good hearing will be paid for their time. Located at the Portland VA Medical Center