Sponsored
Sketch comedy troupes from all over N. America descend on The Siren Theater for 3 glorious nights.
Despite this headline over at The Verge, Valve (the company behind Half-Life and Portal) is not making a gaming console.
However, if the piece is to be believed, Valve could be working on a standardized set-top computer designed to connect to your television that would allow users to play PC games via Valve's wildly successful Steam service.
According to sources, the company has been working on a hardware spec and associated software which would make up the backbone of a "Steam Box." The actual devices may be made by a variety of partners, and the software would be readily available to any company that wants to get in the game.

...

Apparently meetings were held during CES to demo a hand-built version of the device to potential partners. We're told that the basic specs of the Steam Box include a Core i7 CPU, 8GB of RAM, and an NVIDIA GPU. The devices will be able to run any standard PC titles, and will also allow for rival gaming services (like EA's Origin) to be loaded up.
So essentially a computer specification intended to be connected to a television. That's very console-esque, but it wouldn't be a direct competitor to Microsoft and Nintendo as neither the hardware, nor its games would be proprietary. It's even possible that these rumored machines could be built by consumers themselves.
We may hear more about this at next week's Game Developers Conference, but regardless we still have no idea when we might see Half-Life 2 Episode 3.
Sponsored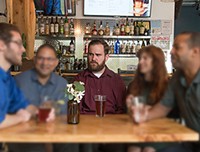 Adults aged 18-35 with good hearing will be paid for their time. Located at the Portland VA Medical Center